Complete Guide to Australian Tourist Sim Card & Data Plans 2023
Choosing an Australian Tourist sim card can be confusing, to say the least. We have decided it was time to answer the questions we regularly get in our Facebook group. If you have any more questions, pop over to the group and let us know.
You want to stay in contact with the people you love when you're travelling to Australia, and that usually means working out the best options for buying a sim card in Australia and discovering which data plan will suit you best. If you're trying to decide between different travel sims in Australia, then here's how to make the best choice for your trip.
This post contains affiliate links. Our full disclosure policy is here.
FREQUENTLY ASKED QUESTIONS ABOUT USING YOUR PHONE IN AUSTRALIA
Is your phone compatible with the Aussie network?
Before you choose a prepaid sim card in Australia, you need to know if your phone is compatible with Australia's network.
Australian networks use the GSM standard, which is common in other countries as well. However, if you're from Japan or the US, your phone may use the CDMA. If your phone is CDMA only, you won't be able to talk or text on your phone; however, you may be able to use the 4G network to access data.
Australia has three mobile networks:
All other providers use these networks.
Before you leave home, make sure your phone is not locked to your provider.
Your phone will also need to operate on the right frequencies to use Australia's network. You will need to look at your phone's specifications and match them to Australia's frequencies to work this out.
Australia uses 850MHz, 900MHz, and 2100Mhz for 3G networks and B1, B3, B5, B7, B7, and B28 for 4G bands. Different areas tend to use different frequencies too, especially rural areas. This is an important consideration if you want to travel outside of the major cities while you're in Australia.
Before you choose your travel sims in Australia, make sure that your phone is compatible with all these requirements.
Buying a sim card in Australia
Once you've worked out if your phone is compatible, buying travel sims in Australia is easy. You can buy a sim card overseas before you leave and have it shipped to you, or buy one at the airport or at the provider's stores.

If you're going to buy at the airport, spend some time looking at the options and chosen your sim card before you arrive to make the transaction quick and easy. You will need to pay for and register your sim card, but once that's done, it should be activated in 10 minutes.
To activate your card, you'll need:
Your name
Passport number
Australian address (you can use your hotel or hostel address)
For a long time, buying travel sims in Australia was very expensive. Fortunately, the growth of low-cost carriers has recently made it a lot cheaper.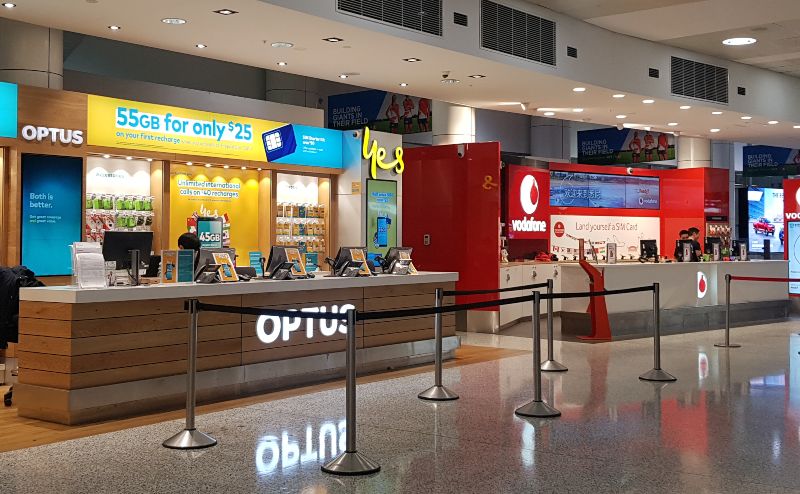 Phone Networks in Australia
The three major networks in Australia are:
Telstra
This company has the widest coverage and is probably the best choice if you're planning to visit the outback and want to make sure that you have a signal. There are Telstra shops all over, including in most international airports.
Optus
The Optus network isn't as large as Telstra, but if you're staying near the cities or towns, it shouldn't be a problem. You'll find Optus stores in shopping centres and airports.
Vodafone
Vodafone is the smallest of the three major carriers and has a smaller network as well.
Mobile virtual network operators
There are also lots of smaller sim providers known as Mobile Virtual Network Operator (MVNOs). These all use one of the three major networks but can provide cheaper sim plans with fewer extras.
Some of the most popular are:
Coles / Woolworths / Aldi (Supermarkets)
TPG
Boost mobile
Amaysim
How to choose travel sims – Australia
There are several things you should consider before buying your sim card, including:
How much money you're willing to spend?
Where you want to travel in Australia, if you're spending a lot of time in rural areas, you will need a sim card that operates on a network with comprehensive coverage (Telstra).
How long you will be in Australia, most plans are for 30 days.
How you use your phone, which means assessing whether you intend to make phone calls back home, watch Netflix on long bus rides, or just use it for emergencies.
Essential card features
There are three essential features to look at when you're comparing travel sims in Australia. These are:
The network coverage, because this will help you stay in touch throughout your trip.
Data limits, because this will determine how you can use your phone.
International calling options, just in case you get homesick and want to call home.
The offerings from each company are different. You can find data-only cards, which won't allow you to make calls or texts but give you access to the internet to make bookings or look at maps. But if you want to make calls, you will need to get a prepaid sim card in Australia that offers a combination of features.
Tips for phone use in regional areas of Australia
Don't always expect to connect to a network in the outback, as many isolated areas in Australia can be unpredictable for network coverage. Telstra has the biggest network, so if you're planning on visiting rural areas, this is your best overall choice when buying travel sims in Australia.
If you spend time in really remote areas, you may not be able to get coverage no matter what network you go with. Australia is just too large and most of it is too isolated for complete coverage.
If you have long days or weeks in the outback, consider getting a sim only for your city days. You probably won't be able to use it in the outback anyway, and most phones will allow you to call emergency numbers without being on a network. If you need emergency help at any time, just dial 000 or 112.
Pocket Wi-Fi Australia
Free Wi-Fi can be hard to find in Australia, some travellers like the assurance provided by pocket Wi-Fi devices. The pros of using these devices are:
Always having coverage in your pocket.
Simple to use.
You can connect it to any device or multiple devices.
A range of plans and devices are available.
And the cons are:
They can be pricey if you go over your data limits.
The battery life doesn't last long, so you can lose power quickly and suddenly.
Pocket devices only provide data, so you can't make calls or send messages.
It means you need to carry around and care for another device.

This is a personal choice that can be a good option if you travel a lot and need to stay connected. It's also an affordable choice for families which up to 4 devices being able to be used on some pocket wi-fi.
The Takeaway
Choosing the right Australian Tourist sim card is up to you. It depends on how you intend to use your phone, your budget, and how long your trip is. So, before you head to Australia, make sure you do your research and choose the option that works best for you. Then, you can have an amazing holiday!
Ready to plan your holiday, look at our 14-day itinerary for Australia
Got a question? Head over to our Australia Travel Tips Facebook Group and ask a local.