7 DAYS IN SYDNEY-ITINERARY FOR A FIRST VISIT
If you have 7 days in Sydney you are in luck, this is the perfect amount of time to get a good feel of the city and all it offers. If you only have three days, don't worry, these days work independently, so just pick the ones that most appeal and save the rest for your next visit!
This page may contain affiliate links. Read our full disclosure policy for more information.
How to spend a week in Sydney
It might seem like a long time in one place, but we guarantee a week in Sydney is a great amount of time and with our itinerary, you will not run out of things to do!
Day One – Take in the Icons
Today it's all about the Sydney Opera House, Harbour Bridge and stunning Sydney Harbour.
Morning in The Rocks
Most visitors head straight to the harbour; the pull to see this iconic waterfront is almost impossible to resist, so don't. Whether you are full of energy or struggling to stay awake, there is something to suit down by Circular Quay, so make your way there.

If the jetlag is real, then skip this and jump on a Sydney ferry. Spending time out on the water, it's invigorating, and it is one of the most beautiful ways to see the city.
Alternatively, if you're raring to go, it's time for your history lesson, discover our past on a self-guided walk around the Rocks.
Make your first stop at the Rocks Discovery Museum in Kendall Lane and after a quick look around this small but interesting collection, grab one of their maps and away you go.
Be sure to include:
Foundation Park
Observatory Hill
At least one historic pub – the Glenmore has a great rooftop view.
If you are a history lover, then a stop at Susannah Place, a small museum on Cumberland Street, is well worth an hour.
Afternoon at the Opera House and Botanic Gardens
If you have not already given in to lunch at the pub, consider the Museum of Contemporary Art rooftop café. It is on George Street near Circular Quay. Along with magnificent views, the menu is affordable and is themed to the current exhibition, so usually quite interesting.
Alternatively, make your way around past the ferry wharves to East Circular Quay, where the boardwalk is lined with restaurants. A local favourite is Opera Bar under the white umbrellas at the Opera House. If you don't make it to Opera Bar today, be sure to come back. It's a lovely spot to watch the sunset.
Opera House Tours run hourly and can be booked on the day in most cases – book online a couple of days before if you want to lock in a specific time.
If you are not keen to tour the Opera House, I suggest you make your way into the Botanic Gardens for an afternoon stroll. Botanic House in the Gardens is also a fantastic lunch option.
By now, I imagine you are well ready for a nap before dinner, so head to your hotel/accommodation and relax until dinner.
Sydney is not a city that eats late, so expect to book either early seating (before 6.30 pm) or late seating (usually 8 pm) in restaurants that require bookings.
Most kitchens close by 10 pm, although this is changing slowly and more late-night dining is opening up.
Evening in the city
Don't worry if you are too tired to do everything we have suggested. You have plenty of time with a week in town, so just pick and choose to suit your energy levels.
If you are staying in the CBD, consider Mr Wong for some high-end Asian cuisine, some Spanish from Bar Tapa, or check out our DIY Rocks Pub Crawl and dine on a classic Aussie pub meal in one of our most historic hotels.
You might enjoy a harbour dinner cruise this evening.
Day Two – Bays and Beaches
Explore the Harbour's prettiest beaches, take a walk to a candy-striped lighthouse and soak up the coastal views
One of my favourite days to share with visitors begins at Barangaroo with breakfast at Wild Sage or Devon. If you are not a fan of breakfast, at least grab a coffee and pastry from Bourke Street Bakery. From here you can walk via the Barangaroo Reserve to Circular Quay or if you want to save your legs, take a ferry from here to the Quay to join the Watson's Bay Ferry.
Morning in Watsons Bay
There was once a direct ferry to Watson's Bay from Barangaroo. Sadly, they have stopped this and you will need to change ferries and join the F7 service to Watson's Bay.
Once you arrive at Watson's Bay turn left and make your way along the beach to the end, then turn up onto the road. Follow it until you come to Camp Cove Beach.
At the end of Camp Cove Beach is the South Head Heritage Trail, an easy walk that will take you to the top of South Head and the pretty candy-striped Hornby Lighthouse.
Make your way back down to the park and across the road to check out the Gap. These sheet cliffs face out to the Pacific and were sadly the final resting place of several ships attempting to enter Sydney Harbour.
Afternoon in Bondi
After lunch, it's decision time, you have the 380 bus ride to think about it 😉

Do you want to chill out at the beach, do some shopping, hang out at Icebergs OR take the Iconic Bondi to Coogee Walk around to Bronte Beach where you can have a swim at the heritage-listed and very Instagramable Bronte Baths
Evening in Potts Point
Tonight, I suggest you check out one of the great dining options on Macleay Street in Potts Point. I am quite fond of Apollo, a modern Greek diner, but other good options include vegetarian favourite Yellow and Cho Cho San for Japanese food.
Day Three – The Blue Mountains
It's time for a day outside the city to explore the UNESCO listed Blue Mountains, National Park. Either take the train on a do-it-yourself trip or join one of the many-day tours. You can also rent a car and drive up – the trip takes about 90 minutes whichever way you choose.
We have written extensively about the Blue Mountains on our Sydney Expert site, so take a look here for ideas on the best way to visit.
Day Four – A Day on the Harbour
Your day on the harbour can be as extravagant or budget-conscious as you like. Today we explore to see Darling Harbour, Barangaroo and Manly either by ferry or private cruise.
Morning in Darling Harbour
Darling Harbour has plenty to keep you busy. Choose from the Chinese Garden, the huge children's playground, Sydney Aquarium or Wildlife Sydney, and our favourite the Australia Maritime Museum.
Lunch in Barangaroo
When you start to feel the pangs of hunger, make your way to Barangaroo Wharf to either join the Taste of Sydney food tour of Barangaroo or choose a restaurant for lunch with a view.
Restaurants we like include:
Born – Spanish tapas
Anason – Turkish
Muum Maam – Thai
Barangaroo House – Modern Australian
If you feel more like a picnic, pick up some takeaway and keep walking around to our afternoon walk at Barangaroo Reserve
Barangaroo, once an old shipping container terminal, is being transformed into a huge new waterfront precinct. It is 2/3 complete and well worth an hour or two to explore.

When designing the parkland, records from Sydney's early days were consulted, and they planted a waterfront reserve with species that previously existed here. Over 75,000 native plants are on the site, and they have recently introduced native bees.
Before you visit, download the free Barangaroo Ngangamay app (Apple and Android) to learn more about the indigenous history of this land. The app contains five short multimedia clips that tell the stories of the Cammeraygal people and also of Barangaroo herself.

Exit the park near the pub on the top of the hill, the Hotel Palisade, if you fancy a drink with a view pop into their rooftop bar, the Henry Deane, where you will get views up and down the Harbour. Take Argyle Street back down to Circular Quay and find the ferry to Manly.
Afternoon in Manly
There is no better way to enjoy the afternoon sun in Sydney than on the ferry to Manly. The 30-minute ride takes you across the heads and "seven miles from Sydney and 1000 miles from care" a holiday slogan from the 1940s that stands today.
Walk the Corso down to the ocean-facing beach and, if the weather is nice, continue around to Shelly Beach, a local favorite. Depending on the season, you might like to jump into the water and explore the marine reserve with your snorkel and mask. There is usually plenty to see in the water here.
Head back to the wharf for sunset drinks – there are usually some good happy hour deals at the Manly Wharf Hotel, and they have the perfect spot to watch the day draw to a close. You will be spoilt for choice when dinner time arrives.

Ride the ferry home and enjoy the city lights from the water.
Day Five – Explore the Inner West
It's time to leave the city streets and harbour behind and get out and explore the inner suburbs. Get ready for a day of Street art, craft beer and cheap eats.
Morning in Newtown
It's been a pretty hectic week so far, so a sleep-in may be in order today. There is no rush to get through a list of things to do today. It's a meandering day, you can follow a longer street art walk or just take the train to Newtown and wander the unique shops and fascinating back streets of St Peters, Enmore, and Newtown. This is also a very budget-friendly day!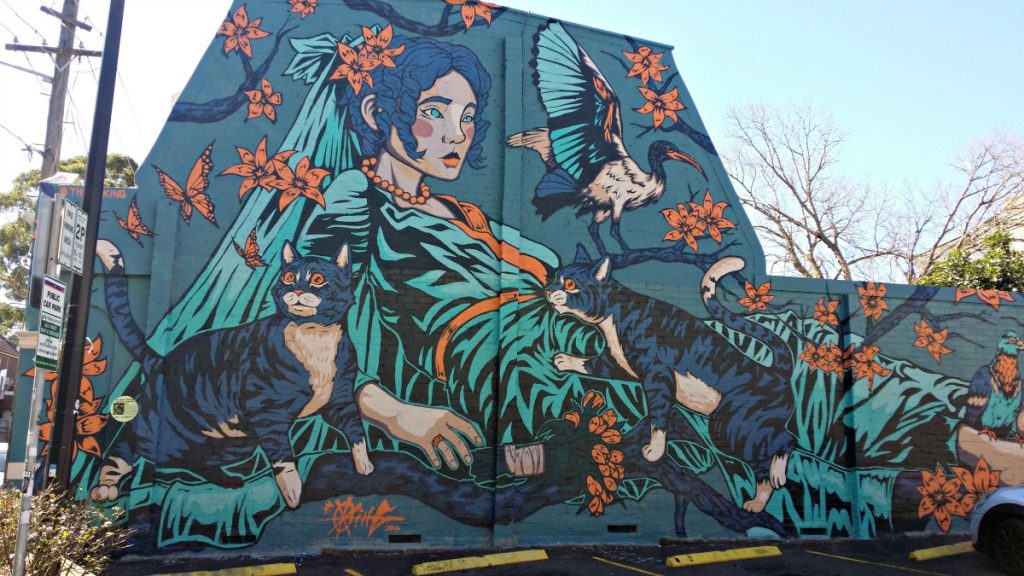 Almost every side street rewards with murals, but be sure to wander Lennox Street, parallel to the main thoroughfare, King Street, for some excellent examples. Turn off at Australia Street and hunt down Black Star Pastry for a coffee and a slice of watermelon cake.

When you work up a thirst, make your way to Young Henry's in the back streets of Enmore to try the goods at one of Sydney's first craft breweries.
After a couple of drinks, make your way to north Newtown and head to Hollis Park (map reference) for some of the prettiest streets in inner Sydney. From here it's a 20-minute walk to Chippendale, past Carriageworks (Saturday Market), and the western side of Redfern.
Afternoon in Redfern and Chippendale
It's an interesting walk with plenty to see along the way. I suggest a quick stop at the "This is Redfern" artwork by Reko Rennie at 36 Caroline Street and the White Rabbit Gallery in Balfour Street (free).
If you are not in the mood to walk, wander back to King Street and take any city bus to George Street. Get off at Central Park Mall, 28 Broadway.
Dinner in Chippendale or Darling Square
You are now in Chippendale, a revitalized suburb that is home to creative businesses and a new housing and shopping development on an old brewery site. There is plenty here to satisfy even the fussiest of eaters.
On a budget, we suggest you try Spice Alley. Fancy some Aussie wine, Handpicked Cellar Door on Kensington Street is a great spot to try a few distinct drops. The front bar of the Old Clare Hotel is always fun, and the decor alone makes it worth a look.

For a sit-down meal, the Sicilian restaurant on Olio on Kensington Street is nearby; we also like Mekong. If nothing here takes your fancy, it's a short walk to Darling Square and lots more choices.
Day Six – Harbour Walks and Wildlife
It's time to walk off all the delicious food you have been discovering with a harbour bush walk and a pretty harbour beach.
Morning on a harbourside track
Before we start, I want you to take the elevator at the eastern end of the Quay near wharf number one up onto the Cahill Expressway viewing platform for an extraordinary view of the harbour.

Today we will take a ferry over to Mosman and explore the harbour foreshore of the lower north shore. If your visit to the Blue Mountains did not include a stop at Featherdale and you want to get up close and personal with some of the Aussie natives, then perhaps the first 2 hours of your day should be spent at the zoo.
But save some energy because the real fun today is the Taronga to Balmoral Walk. Truly one of the most stunning harbour walks and a fabulous way to round out your week in Sydney and get ready to say goodbye to the harbour.
The track takes about 90 minutes, but you could spend as long as 2.5 hours if you stop along the way to swim at one of the tiny beaches, snack at one of the cafes, or just take hundreds of photos like I always do.

You finish your walk at the beautiful Balmoral Beach, home to some outstanding dining and one of the best fish and chip shops in the city.
Afternoon at Balmoral
We think Bottom of the Harbour seafood at Balmoral does the best fish and chips in the city, perfect for a beach picnic.
If you prefer the idea of a sit-down lunch, there are no wrong choices here, so let your wallet decide. The Boathouse on the pier offers great casual lunches and for something more upmarket Bathers Pavilion is the go.

From Balmoral Beach, buses return to Taronga Wharf or up to the main street in Mosman and into the city. Take your pick; if your legs still have something left in them, then I suggest the bus to Mosman and a stroll through the shops there before you join a bus to the northern side of the Harbour Bridge.

You can then walk back into the city across the bridge if you have not already or jump on any of the buses that come along, most will take you to Wynyard.
Dinner near home
This was a pretty big day, so you are probably ready for a quiet night. I suggest something near your accommodation. If nothing jumps out, ask your concierge for a tip or read over to the Facebook group and ask a local.
Day Seven – Fashion, Art and Architecture
Explore the inner suburbs of Paddington, Darlinghurst, Elizabeth Bay and Woolloomooloo
Morning in Paddington
Take the bus to Oxford Street in Paddington to explore today. "Paddo" as locals know it, is full of row after row of Victorian terrace houses, in fact, so many that it has earned a national trust listing. If you are a lover of architecture, you will enjoy strolling the streets here and seeing how old and new are being blended while keeping the streetscape intact.

There are plenty of cafes perfect for an Aussie breakfast, avocado on toast, poached eggs, or a veggie-packed green bowl. Try funky köket café for a healthy option or Ampersand bookshop for something sustaining.

If you want to save some $$ grab a pastry and take away coffee from Infinity Bakery and head across the road to the Paddington Reservoir gardens where you can sit below street level in relative peace
Wander the length of Oxford Street and check out the shops, fashion, and design are the themes of the day here. If you visit on a Saturday, I suggest a visit to Paddington Market, held on the public school grounds.

Make your way down Oxford Street towards the city. You will pass along a sandstone wall; this is the Victoria Barracks. There is a small museum open to the public on Thursdays. A little further along, you will come to Victoria Street on your right. Turn here to make your way into Darlinghurst.
Afternoon in Elizabeth Bay and Potts Point
Elizabeth Bay and Potts Point are filled with Art déco delights. There are some charming streets here. Be sure to stroll Onslow Street, where you will find the lovely Arthur McElhone Reserve and historic Elizabeth Bay House, Macleay Street, Challis Ave, and Victoria Street.
At the city end of Victoria Street, you will come to a bar called The Butler, a fabulous spot for afternoon drinks. There is a good city view from the back terrace. Don't drink too much; you have a set of the infamous Woolloomooloo Stairs to come.

When you leave the Butler, head down the Butler Stairs and through the backstreets of Woolloomooloo to the wharf. From here, you can make your way back into the city via Mrs. Macquarie Point and the Botanic Gardens.
We hope you have a wonderful time on your visit to Sydney.
Got a question? Head over to our Australia Travel Tips Facebook Group and ask a local.