Sunshine Coast Hinterland: One-Day Self-Drive Itinerary
See the Sunshine Coast Hinterland in one day with this nature-filled road trip taking you to national parks, refreshing swimming holes, quaint country towns, foodie delights, and magical mountains.
This post contains affiliate links. Our full disclosure policy is here.
One of the most marvellous characteristics of the Sunshine Coast is the contrast between its golden beaches and crisp hinterland. It's these complimentary landscapes that make the Sunshine Coast such a desirable destination to stay and play in Queensland.
As a former Brisbanite, I've taken many day trips to small sections of the Sunshine Coast Hinterland over the years. Then, while recently based in Maroochydore and Buderim, I planned the ultimate one day on the Sunshine Coast Hinterland.
This Sunshine Coast Hinterland itinerary can be completed in a loop, starting from the Sunshine Coast or Brisbane. From Maroochydore driving west, it took us 30 minutes to get to the Sunshine Coast Hinterland.
For those visitors from Brisbane, keep in mind that it's around one hour of driving to reach the southern point of the Sunshine Coast Hinterland region and around two hours to the northern point (not including the driving time between attractions). If that sounds like too much driving for one day, see our recommendations for Sunshine Coast Hinterland accommodation at the bottom of the article.
See our guide on the best things to do in Noosa for first-time visitors.
The Jinibara People are the Traditional Owners and determined Native Titleholders of the western section of the Sunshine Coast region, including parts of the Sunshine Coast Hinterland.
Best Time to Visit the Sunshine Coast Hinterland
There's no wrong season to visit the Sunshine Coast with hot summers averaging a high of 29C and mild winters averaging a low of 9C. Even in the middle of winter, you'll find sunny and pleasant days as high as 22C. If you decide to visit in the warmer months, you'll have the bonus of wet weather filling up the waterfalls and swimming holes in the Sunshine Coast Hinterland.
To avoid the crowds, book your trip outside of the Queensland school holidays.
One-Day Itinerary for the Sunshine Coast Hinterland
Finally, we started at the northern point of the Sunshine Coast Hinterland, however, you could also choose to do this itinerary in reverse if you prefer to start south.
Eumundi Markets
Start your Sunshine Coast Hinterland day trip with Australia's biggest arts and crafts market. The Eumundi Markets are a splash of colour and activity within a small country town.
Local tip: After wandering around the Eumundi Market, wet your whistle at the Eumundi Brewery, across the road within the Imperial Hotel. People flock from all over to mingle at this market, snacking on fresh street food and shopping for handmade goods.
Location: 80 Memorial Dr, Eumundi QLD 4562
Best Time to Visit: Open Wednesdays 8 am – 2 pm and Saturdays 7 am – 2 pm
How much: The market is free to enter. Parking is $7
Dulong Lookout and the Big Pineapple
From Eumundi heading south into the Sunshine Coast Hinterland, there are a few points of interest you may wish to visit. The first is The Ginger Factory in Yandina with tasting tours and rides for kids.
Next, is the iconic Big Pineapple in Nambour. Its park and its attractions are sadly closed, however, you can still pull over to look at the oversized pineapple.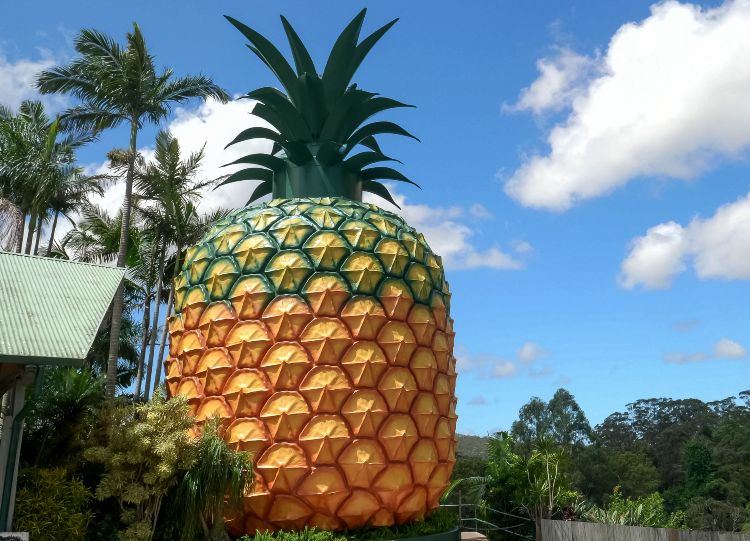 Third, is Dulong Lookout, reached after a short uphill drive from Nambour. This spectacular photo spot overlooks the Sunshine Coast towards Maroochydore.
Location: Dulong Lookout, Burnside QLD 4560
Best Time to Visit: Anytime from sunrise to sunset.
Mapleton Falls National Park
If you drive from Eumundi Markets stopping at Dulong Lookout, it's approximately 35 minutes to Maple Falls National Park. The 58-kilometre Sunshine Coast Hinterland Great Walk runs through Maple Falls National Park, providing shorter walking tracks for day visitors.
Maple Falls Lookout: A 25-meter path connects the car park with a breathtaking view of the Obi Obi Valley. Both the lookout and picnic areas are wheelchairs accessible.
Woompoo Circuit: Stretch your legs on this 1.3-kilometre return walk through the dense rainforest. For the best views of Maple Falls, check out the Peregrine Lookout.
Location: Maple Falls Viewing Point, Mapleton QLD 4560
Best Time to Visit: Anytime from sunrise to sunset.
Kondalilla National Park
At the next set of waterfalls in Kondalilla National Park, you'll have the opportunity to cool off. It's a quick 15-minute drive from Mapleton Falls National Park. The Sunshine Coast Hinterland Great Walk also connects the Mapleton Falls Lookout with the Kondalilla picnic area where you'll be starting your visit.
Here there are four short walks, with the most popular being the 4.7-kilometre Kondalilla Falls Circuit. This trail requires a reasonable level of fitness with 300 steps. However, you'll be rewarded with a refreshing swim in the rock pools.
Location: Kondalilla Falls Rd, Flaxton QLD 4560
Best Time to Visit: Plan ahead to ensure you have enough time to return during daylight hours. The best time to see the falls is during the wetter months (December to June).
Montville Markets and Main Street
You'll likely feel famished after your hike and swim at Kondalilla National Park. We recommend heading five minutes down the road to Montville for lunch. This picturesque small town has a charming main street dotted with cafes, art, and antique stores. After taking a stroll around town, we planted ourselves in the Russell Family Park for a picnic.
For local produce and eats, plan to arrive when the Montville Markets are on. The various stalls sell fresh fruit, locally grown vegetables, baked treats, and fair trade coffee.
Location: Village Hall on Memorial Close, off, Main St, Montville QLD 4560
Best Time to Visit: The Montville Markets run from 7.30 am to 12 pm on the second Saturday morning of each month.
Brouhaha Brewery, Maleny
Maleny is another 16-minute drive from its sister town of Montville. There's an abundance of activities in Maleny, depending on your taste and interests. We dropped in at the Brouhaha Brewery, which now has a second Sunshine Coast location in Baringa. This brewpub sources local, seasonal fruits and sends discarded grain to feed the cows at Maleny Wagyu farms. Brouhaha then buys back those cows to use nose-to-tail in the restaurant.
Other Maleny attractions include:
Maleny Botanic Gardens: Privately owned garden and wildlife park open 7 days a week
Maleny Cheese: Sample award-winning cheese and yogurt in their cafe next to a working cheese factory
Maleny Dairies: Visit Queensland's first carbon-neutral dairy business with tours and taste testing
Platypus Viewing Platform: This platypus viewing spot is on Porters Lane in North Maleny. Early morning or late afternoon are usually the best times to spot a platypus.
Location: Brouhaha Maleny is at Shop 5 on 39 Coral St, Maleny QLD 4552
Best Time to Visit: Open Friday to Saturday from 11 am to 9 pm.
Mary Cairncross Scenic Reserve
The namesake of the Mary Cairncross Scenic Reserve was a devoted environmentalist whose land was used to create a 100-acre reserve. The project began in 1959 by the Rotary Club of Maleny in collaboration with Mary's daughter and the Landsborough Shire Council.
Now the Marcy Cairncross Scenic Reserve is home to over 200 species of reptiles, amphibians, birds, and mammals such as the pademelon. For a gold coin donation, you'll be able to explore the reserve and its facilities such as the Rainforest Discovery Centre and Glass House Mountains viewing platform. Eating options are available with the Mountain View Cafe or picnic tables and BBQs in the public picnic area.
Location: 148 Mountain View Rd, Maleny QLD 4552
Best Time to Visit: Open daily from 9:30 am to 3:30 pm
Gardner Falls
Gardner Falls was the last stop on our one-day itinerary for the Sunshine Coast Hinterland. These falls in Maleny, close to the other attractions and a popular swimming hole for locals.
We found going in the late afternoon to be a perfect time, as many people were leaving. The waterfalls aren't are impressive as at Mapleton Falls and Kondalilla National Park, however, this is a fun place to take a dip and relax.
Location: Obi Ln S, Maleny QLD 4552
Best Time to Visit: Anytime from sunrise to sunset.
Sunshine Coast Hinterland Accommodation
We planned our trip to the Sunshine Coast Hinterland in a day, but you could easily spread out these activities over a weekend or longer. To help you plan your trip and book accommodation, we've listed some of the best places to stay in the Sunshine Coast Hinterland:
Glass House Mountains Ecolodge (from $129 per night): Affordable and sustainable accommodation near the majestic Glass House Mountains National Park. There are options for all group sizes, whether travelling solo, with friends or family. You could even sleep in a 19th-century church or restored train carriage.
The Guesthouse Maleny (from $144 per night): A quaint and comfortable guesthouse walking distance to Maleny's main street and attractions such as the Maleny Botanic Gardens.
Hunchy Hideaway (from $304 per night): Treat yourself to a gorgeous villa or cottage tucked away in Montville. Each accommodation option is self-contained with a spa bath and log fire.
We have a feeling you'll be leaving the Sunshine Coast Hinterland completely rejuvenated, yet yearning for the next visit.
If you're driving back to Brisbane, read how to have a fun weekend in Brisbane on a budget.
Planning to explore Australia? Head over to our Facebook Group for Australian Travel Tips or to ask a question in our friendly community.