Riding the Rails: The Sydney to Broken Hill Train
I rode my first Sydney to Broken Hill train as a child way back in the late 1970s on the Silver City Comet and what a trip it was. These days, the route is served by the XPT Outback Explorer. Below travel writer Joanne Karcz shares her recent experience of this special NSW train trip.
This post may contain affiliate links. Read our full disclosure policy for more information.
Exploring Outback NSW By Train
It's 5:30am and Sydney's Central Station is virtually empty. My train, the NSW TrainLink Outback Explorer, leaves for Broken Hill at 6:18am. At a fraction of the cost of the more luxurious Indian Pacific, it's an affordable alternative. This way I get to spend time in Broken Hill and by travelling during the day, will experience the expanse of this vast country as we trundle west.
But first coffee. The café come sandwich shop down the escalator opens early and their coffee hits the spot.
A railway official tells me, "First Class is always fully booked"
It's also full of seniors. The two economy carriages are relatively empty. Next time I'll save the extra dollars and book Economy. While there's extra leg space in First Class, there are plenty of free seats in Economy. And the broader demographic from mothers with their offspring through to older folk make for more interesting travel companions.
With a faint hoot of the horn, the train glides silently out of the station. As soon as I realise we are moving I check my watch. It's 6:18 exactly. The driver welcomes us aboard, announcing that we'll be travelling 1150km to Broken Hill. The trip will take 13 hours.
Fellow passengers have come prepared with pillows. Some are already asleep. I on the other hand am wide awake, peering out the window at the awakening city.
Someone asks, "Is there Wi-Fi?" No, there isn't. Nor are there charging points, and phone signal will be sporadic.
But there is a buffet with fresh sandwiches, snacks and even a Devonshire Tea. After 12pm those who are so inclined can purchase a beer or wine by the glass.
My face glued to the window, I notice a temple in Homebush, a flock of Ibis gathered in a tree in Lidcombe, and the Museum of Fire in Penrith.
Low cloud hangs in the valleys as we pass through the Blue Mountains. The bush shows signs of recovery after severe bushfires. Some trees didn't survive, their stark grey branches reaching like gnarled old fingers into the sky.
The landscape changes regularly, from Sydney's suburban sprawl, along mountain passes and past sandstone outcrops. Dense housing has given way to a more rural scene. We pass through rolling green fields, fields of yellow canola contrasting with the purple patches of Patterson's curse.
As the scenery changes, animal sightings become more frequent. Sheep with newborn lambs graze lush green pastures. Black cattle chew thoughtfully, slowly turning their heads to watch the train pass. I even spot two camels long before we reach the outback.
A mob of kangaroos, disturbed by the train, bound off into the distance. Emus with their chicks scuttling behind them run from the tracks. Families of feral goats race away, tails in the air.
The sound the horn blasting repeatedly pierces the air. It's followed by a loud thud. Passengers groan. That kangaroo was too slow.
A predatory bird rests on a farm fence. A flock of parrots fly off on our approach. I spot sulphur crested cockatoos, pink and grey galahs and striking crimson rosellas.
Passengers read, doze, knit or crochet. One man does knee raises in the aisle. Another suggests a sing-a- long but there aren't any takers. The line at the buffet grows as lunch time approaches.
Some of the towns where we stop are familiar Bathurst, Orange, Parkes. Others I've not heard of Blayney, Euabalong West, Ivanhoe and Darnick. During longer stops, I stretch my legs by walking briskly along the length of platform always keeping an eye and ear out for when it's time to board.
The further west we travel, the green fields make way for red dirt, bush and scrub. Where there is grass, it's dry.
At Ivanhoe two neatly dressed women stand on the platform beside a rack of brochures. They are Jehovah's Witnesses. A passenger gives them a big hug saying "we're sisters".
Two wide-eyed young women with German accents alight from the train, giggling nervously at the prospect of spending time in this isolated place. A farmer waiting beside her dusty 4×4 greets them and helps them haul their heavy backpacks into the back.
The train only stops at Darnick on request. A short platform means that the two men getting off must walk through our carriage into the driver's compartment from where they alight. They're carrying enormous backpacks and four litres of water each. The driver wishes them luck as they head off on their adventure.
It's been raining and unusually, water lies dormant for miles on either side of the track. The Menindee Lakes are full. Water wraps around the trunks of dead leafless trees.
The sun sets as we wind our way towards Broken Hill. In the fading evening light, I make out the city in the distance, lights twinkling against the now dark sky.
I've enjoyed every minute of this long train journey. I didn't even open a book. The passing scenery was all the entertainment I needed.
What days does the Sydney to Broken Hill service operate? The Outback Explorer from Sydney to Broken Hill leaves at 6:18am every Monday. It returns on Tuesday mornings at 7:15am. This is the only direct train. On other days, take the train to Dubbo and then a coach to Broken Hill or the reverse from Broken Hill.
Note taxis can be scarce at Broken Hill Station when you arrive. I walked to my accommodation.
Map Sydney to Broken Hill train route
The train service makes 15 stops between Central Station and Broken Hill.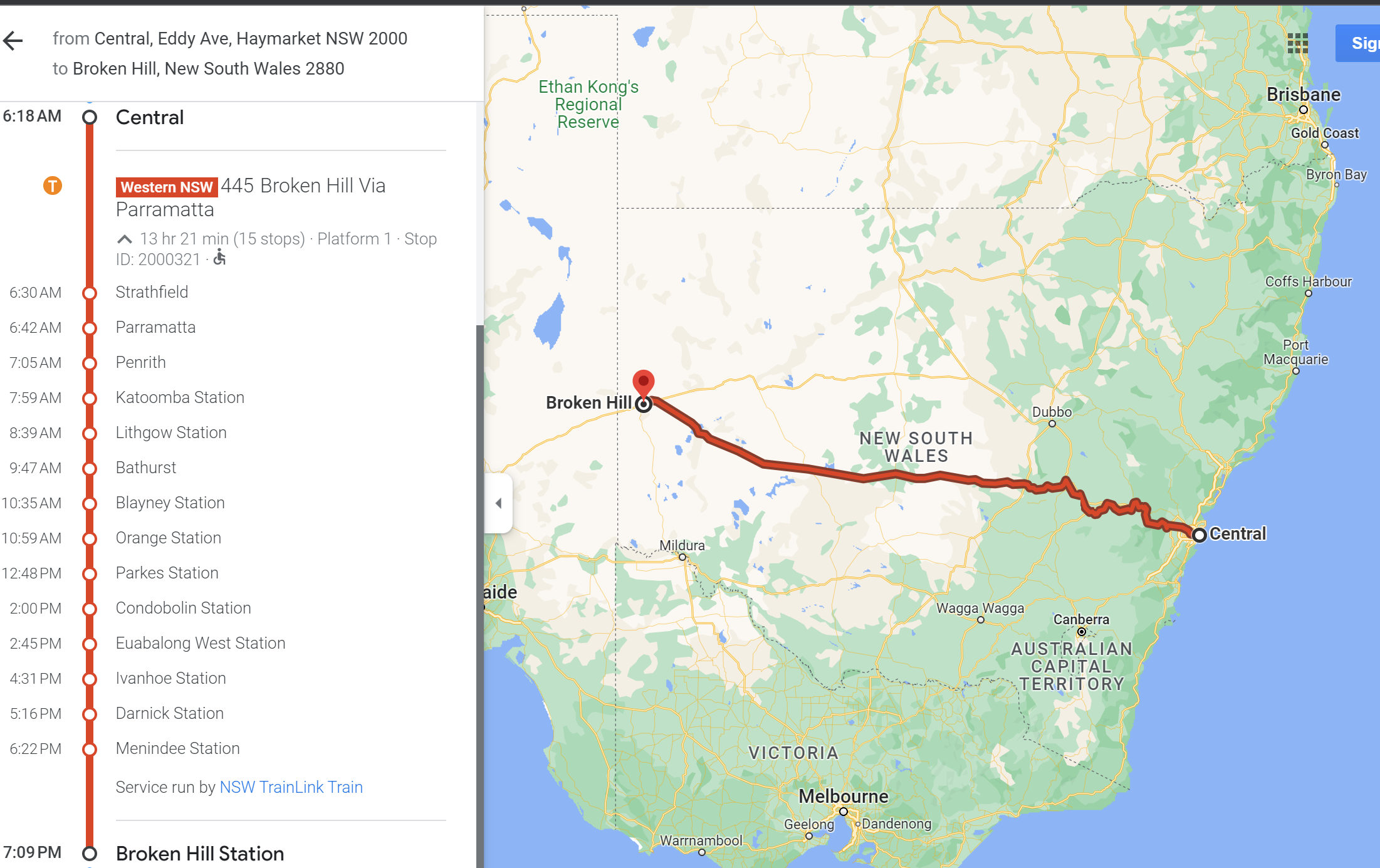 Sydney to Broken Hill FAQ
How much is the train fare from Sydney to Broken Hill? Fares start at $72 one way Book your tickets directly with NSW TrainLink here. The train is the cheapest way to get to Broken Hill from Sydney.
What days does the Sydney to Broken Hill service operate? The Outback Explorer service from Sydney to Broken Hill leaves at 6:18am every Monday. The return journey is on Tuesday mornings at 7:15am. This is the only direct train.
On other days, take a train from Central Station to Dubbo and then a bus to Broken Hill or the reverse from Broken Hill.
Can you catch the Indian Pacific from Sydney to Broken Hill? This famous service which travels via Broken Hill to Adelaide and Perth makes a stop in Broken Hill however you can not buy a point-to-point ticket for this trip.
How long does the train journey from Sydney to Broken Hill take? The trip takes 13 hours from Sydney's Central Station. You can also board from these other Sydney stations; Strathfield, Parramatta and Penrith.
What is the seating like on the train from Sydney to Broken Hill? There are two classes of seating with not a lot of difference between them. First class seating gives you a little more leg room and incline.
Will my internet connection work on the train? No, there is very limited internet service along the route and also no seat power points. Best bring a book and a fully charged device for entertainment.
Is food and drink available on the train from Sydney to Broken Hill? There is a small kiosk that sells basic meals, snacks and drinks. There are sandwiches and you can order a hot meal from a choice of two for lunch and dinner.
What towns does the Outback Explorer train service stop at? The train stops at 15 stations as it makes its way to Broken Hill. Major stops along the route include; Katoomba, Lithgow, Bathurst, Orange, Parkes and Condobolin.
How long should you stay in Broken Hill? There's more than enough to do in Broken Hill if you decide to stay for a week.
Visit the Regional Gallery,
Bell's Milk Bar,
Broken Hill Mosque
The Palace Hotel.
Take a tour to Silverton and another to Menindee.
Do the free tour run by the Visitor Centre.
About the author: After spending years exploring and writing about Sydney's suburbs and hidden treasures, Sydney-based travel writer, Joanne Karcz now writes about her travels both within Australia and Overseas. She delights in meeting locals and discovering places differently.
Got a question? Head over to our Australia Travel Tips Facebook Group and ask a local.
Main image credit: Destination NSW