The best Uluru Holiday Packages 2023
Uluru holiday packages are a brilliant choice if you want to see the best that the red centre offers but not have to plan your own itinerary.
The Northern Territory is one of Australia's bucket list destinations. A multi-day tour of Uluru can actually be a brilliant choice if you are planning to visit the Uluru and Kata Tjuta National Park and would like someone else to do the driving. On an escorted Uluru holiday package you will be met at the airport and taken to your accommodation and then someone else makes sure you see all the key sites.
Today we are going to share the things you need to consider before you choose an Uluru Holiday Package to you can make sure you find the perfect one for you and your group.
This article may contain compensated links. Please read the disclaimer for more details
The Benefits of Booking Uluru Holiday Packages
Uluru, previously known as Ayers Rock, might be the draw card for visiting the red centre, but there is so much more to see here and a guided tour is the perfect way to learn more about the cultural significance of this very special part of Australia.
Accommodation is pretty expensive in Uluru, so most visitors try to see as much as they can in on their trip. Going on an escorted tour is a great way to make sure you see the top sites in your brief visit.
A tour means you don't need to worry about airport transfers, meals and logistics. You are just free to enjoy the beauty of the surroundings.
Your guide can help you better understand the cultural significance of the sites you visit and their meaning to the traditional owners.
Someone will wake you up for your Uluru sunrise so you don't miss out on one of the best experiences of your time in the Red Centre.
Types of Uluru Package Tours
Do you want a comfortable bed at the end of the day or would you prefer to sleep in a swag under the stars? Would you rather cycle the Uluru base walk or is flying over it in a chopper top of your Northern Territory wish list? There is a tour to suit you, you just have to dig through all the options to find it. We know how long this can take because we have done it ourselves a few times now, so today you get to benefit from our experience and hopefully find the perfect tour for your visit.
How many days should your Uluru Tour be?
You need at least 2 full days, preferably 3, to see the major sites at Yulara/Uluru. If you want to see Kings Canyon, you need at least another full day. Personally, I think you should allow 3-5 days to have the best experience in Uluru. Read our full guide to planning a trip to Uluru for more details.
What is usually included in an Uluru Holiday Package?
Most Uluru tours will include:
At least one sunrise, usually Uluru but sometimes Kata Tjuta and on longer tours often both.
An Uluru sunset viewing, sometimes with a BBQ but usually with at least some drinks and nibbles
A guided walk around the base of Uluru – either a portion or all of the 9km path
A visit to the Cultural Centre to learn more about the Anangu People
Some tours will add extras like:
The famous Sounds of Silence dinner
A viewing at Bruce Munro's Field of Light
A sunrise or sunset camel tour
A Helicopter Flight over Uluru and Kuta Tjuta
Aboriginal cultural experiences like a dot painting workshop
The other thing that varies is meal inclusions. On a camping experience, you will be expected to help prepare dinner and clean up after your meal. One many of the entry level tours few or no meals are included and on the luxury options, you will find a fine dining option is added.
Preferred Multi Day Tour Operators in Uluru
There are several excellent tour operators offering holiday packages to Uluru. The key to having a great trip is to choose the company that is best suited to your travel style.
The biggest operator is AAT Kings, who have been offering tours in Australia for more than a century. They work with several local guides and have the biggest range of options. Being the biggest operator means that it's very unlikely (unheard of really) that your tour will be cancelled because of a lack of numbers.
Uluru Camping Tours
While tourism may have restarted in the Northern Territory last year, not all the backpacker/adventure operators have come back online. Thankfully, one of the best, Mulgas Adventures, has and is offering well run camping tours departing from either Alice Springs or Uluru Ayers Rock Resort. In the coming months, I expect more options to be available.
Mulgas Adventures Uluru and Kings Canyon
If you like the idea of sleeping under the stars, then Mulgas Adventures is a fantastic tour. In an action packed a couple of days, you will see the main sights of the Red Centre and do three of the area's best hikes.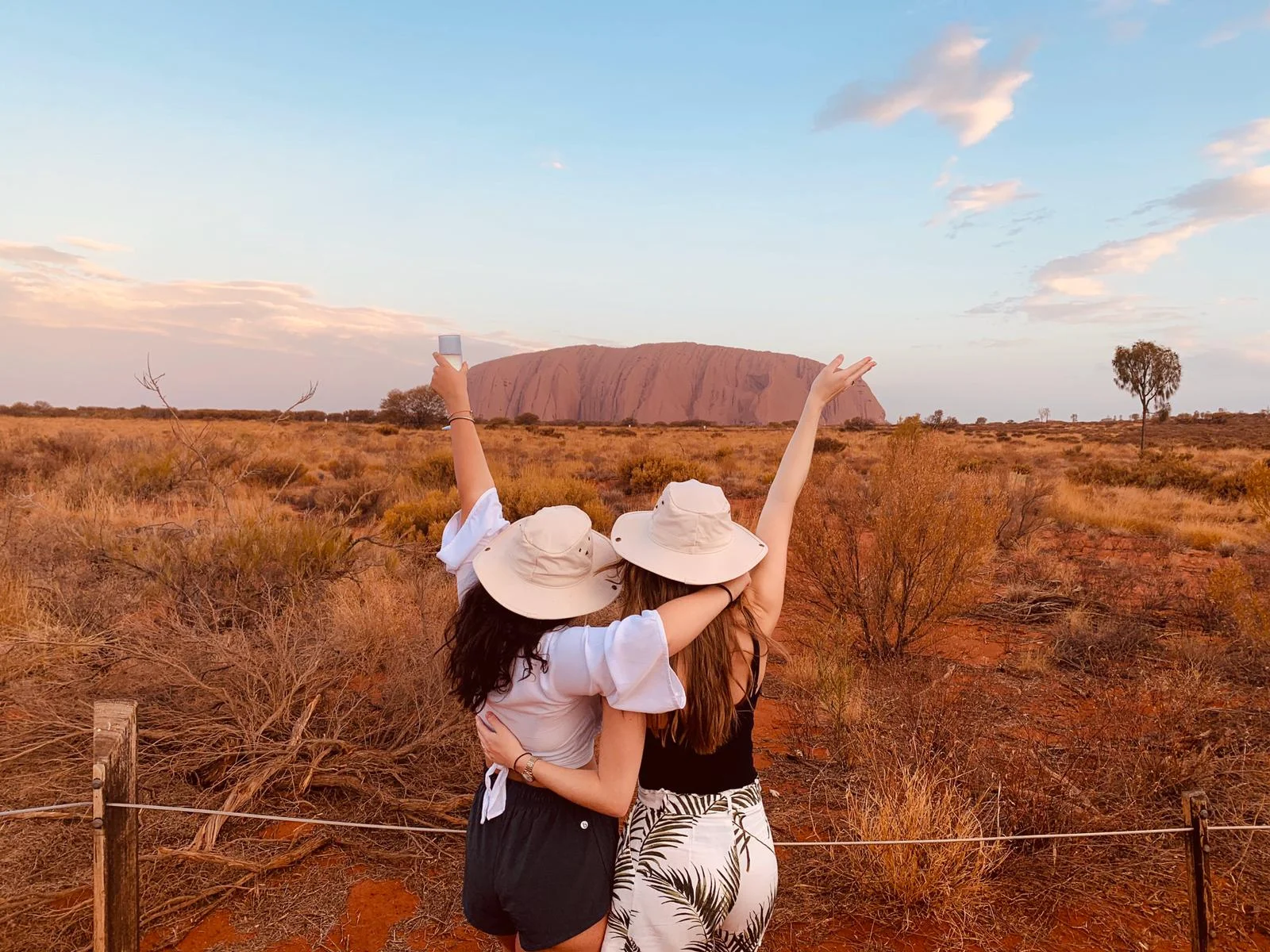 This 3 days/2 nights tour takes a maximum of 24 travellers and starts at either Alice Springs or Ayers Rock Resort. The tour finishes at Alice Springs after visiting Kings Canyon. Generally visitors who choose this tour are 18-50 years of age, but everyone over 12 years is welcome.
On this 3 day Uluru guided tour you will:
Take the 9.3km base walk at Uluru – or a shorter alternative if you prefer
Visit to Cultural Centre where you can learn more about the Anangu People
Experience sunset at Uluru – with bubbles
Enjoy breakfast and sunrise at Uluru the next morning
Visit to Kata Tjuta (previously known as The Olgas) and the Valley of the Winds walk or easier Walpa Gorge walk if you prefer.
Stay overnight at Kings Creek Station with BBQ dinner
Tackle the Kings Canyon Rim Walk (or easier alternative), and visit the Garden of Eden and the Natural Amphitheatre.
What's included
National Park fees are included and they provide everything you need for your camping experience, just a BYO sleeping bag, alternatively you can rent one for $20. All meals are included and Mulgas can cater for vegetarians, vegans, gluten-free and lactose intolerant passengers.
Mulga Adventures is not suitable for kids under 12 years of age.
Check the price and availability of Mulgas 3 day Uluru and Kings Canyon Experience
Uluru Guided Multi Day Coach Tours
Most of the multi-day coach tours that use hotel accommodation are operated by AAT Kings. They are a long established (100yrs) brand with quality vehicles and excellent guides. They partner with small local operators to provide the best experiences for their guests.
AAT Kings Uluru & Kata Tjuta Sights & Sounds Tour
This 3 day tour begins and ends at Yulara and includes all the big ticket sights and experiences along with two nights' accommodation at the resort. It's a great all round tour and the perfect choice if you have limited time but don't want to miss any of the most popular sites.
Your Sights and Sounds tour begins with a lunchtime visit to the Uluru-Kata Tjuta Cultural Centre and a tour of the sacred sites around the base of Uluru. Walk to sacred Mutitjulu Waterhole and view ancient Aboriginal rock art. At the end of the day, enjoy some sparkling wine as the sun sets over Uluru.
Day two begins with a sunrise over Kata Tjuta, with Uluru in the distance. Then it's time for a 2-3 hour walk to the Valley of the Winds. After this, you will probably be ready for an afternoon nap (I was!).
This evening you will enjoy the very special Sounds of Silence Dinner, a gourmet buffet of Australian specialities and Australian wines. After dinner a local star talker explains the constellations of the southern night sky. On the night we visited, we could take turns spotting planets through the telescopes.
Your last day begins with Bruce Munro's Field of Light, in the predawn light, wander through 50,000 magical, hand-crafted frosted glass spheres of light.
Then make your way to the dune and watch the sun pop up in the distance behind Uluru.
Sleep: Sails in the Desert Hotel, Ayers Rock Resort, 2 nights.
Check availability and current prices of the Sights and Sounds Tour
You can also visit Uluru as part of one of AAT Kings Longer Northern Territory Holiday packages
3 Day Uluru & Kings Canyon Discovery
This 3 day action packed tour begins and ends in Alice Springs and is a brilliant choice for anyone who wants to include a visit to the MacDonnell Ranges. It's a busy itinerary but if you have limited time but want to see as much as you can, it's a great choice. You could choose to add a day or two in Alice Springs before your tour if you wanted to see more of the centre, like this day tour to Palm Valley.
On this tour you will:
Learn about Australia's weird and wonderful creatures, like the Thorny Devil and Red Kangaroo.
See Atila/Mt Conner – the sight that so many confuse with Uluru it's earned the nickname Fool-uru,
Visit the Cultural Centre where you'll have time to explore the galleries
Hear Aboriginal Tjukurpa (creation) stories
Walk to Mutitjulu Waterhole
Enjoy a sparkling wine while you view your first Uluru Sunset.
Watch sunrise from Talinguru Nyakunytjaku, a purpose-built viewing platform perfect for watching the day come alive.
Take a self-guided walk through Walpa Gorge, a 1.3km track between two of Kata Tjuta's largest domes.
Climb to the rim of the canyon for marvellous views of Watarrka National Park at sunrise. Then it's time to make a choice, take the challenging circuit walk (3 hours) or take an easier, shorter walk to explore the boulder strewn canyon floor.
Stop at Kings Creek Station, a working cattle and camel station for lunch (own expense) where you'll have the opportunity to try their famous camel burger!
Hike at Kings Canyon
Need to know:
Meals are not included in this tour.
There are a range of walks from easy to more challenging depending on your ability
Sleep: Choose from Sails in the Desert Hotel, Desert Gardens or Outback Pioneer Hotel and then either superior or standard rooms – The choice will determine the tour payment.
Check price and availability of the AAT Kings Uluru and Kings Canyon Holiday package
5 Days Outback Highlights Tour
This 5 day tour runs at a much more relaxed pace and includes all the sites included in the 3 day tour above but allows you a lot more free time in the middle of the day to add other experiences to your time in Uluru.
Your tour starts with a midday arrival and transfer to your hotel before heading out to Kuta Tjuta for your first red centre sunset.
Day two starts with an Uluru sunrise and ends with the Sounds of Silence dinner, in between you get to hike Walpa Gorge.
In the afternoon you can try to fit in one of the free talks offered at the visitors' centre. These can really add to your visit. We really enjoyed the art talk and the morning garden walk.
Day three is big, a full day out to Kings Canyon, where you have the chance to climb to the canyon rim for stunning views of Watarrka National Park. There is also an option for a shorter walk to along the boulder-strewn canyon creek bed.
On day four, the pace settles again and you have a free morning to do whatever you please, a scenic flight, a dot painting class or a ride on the camel express. In the afternoon, you will do the base walk before enjoying sunset with a glass of wine or bubbles.
Your last day begins with the Field of Light. You will arrive in while it's still dark and experience with light display as the sun rises.
This holiday package includes four nights at the Sails in the Desert Hotel, Ayers Rock Resort. The hotel has the largest pool in Yulara and is the perfect place to cool off after your morning hikes.
Check the price and availability of the Outback Highlights tour
Uluru Tour Passes
If you like a bit more flexibility, then perhaps one of AAT Kings Tour passes is a good choice. These passes take the hard work out of planning your sightseeing.
While this pass will cover your tour needs, you have to arrange your own accommodation options. We have written extensively about the different hotels at Ayers Rock Resort.
Piti Sightseeing 3-in-1 Pass: Uluru–Kata Tjuta National Park & Kings Canyon
This Uluru Holiday package from AAT Kings comprises 3 individual tours and, rather than being a consecutive three-day experience in a closed group.
2 Individual half-day tours:

Uluru Sunrise & Kata Tjuta, including a warm beverage
Uluru Sacred Sights & Sunset, including wine and canapes

1 full-day tour – Kings Canyon & Outback Panoramas, including breakfast
Buy the Piti pass or find out more here
Tjina Sightseeing 4 Day Pass + Kings Canyon
All the key experiences of Uluru–Kata Tjuta National Park & Kings Canyon including the domes of Kata Tjuta on the Valley of the Winds Walk, an Uluru sunset, and two fabulous hikes. There is plenty of time to learn more about Aboriginal culture on the guided experiences and then relax at the resort in the afternoon.
4 individual half-day tours:

Uluru Morning Guided Base Walk 10.5km, including breakfast
Kata Tjuta Sunrise & Valley of the Winds, including breakfast
Kata Tjuta Sunset, including wine and canapes
Uluru Sunset, including wine and canapes

1 full-day tour – Kings Canyon & Outback Panoramas, including breakfast
This pass includes 3 day Uluru – Kata Tjuta National Park Entry Fee and some meals. It does not include accommodation.
Find out more or buy a Tjina Pass here
How to Get to Uluru/Ayers Rock Resort
There are no international flights to the red centre. You can choose to fly directly to Yulara (Uluru airport) or fly into Alice Springs and join a tour that starts there or use the transfer bus.
You will find the best (most frequent) options out of Sydney and Melbourne. If you are planning on exploring another destination in the Northern Territory, buy a one-way ticket and head to Darwin or Adelaide after your Ayers Rock tour.
Another option is to take the Ghan from Adelaide to Darwin, which includes a three day stop in Yulara.
It's a good idea to have travel insurance to cover any cancellation or unexpected problems that may arise. We use and recommend Cover-More for all our travel. They also offer an Inbound plan for anyone visiting Australia.
Got a question? Head over to our Australia Travel Tips Facebook Group and ask a local.
Feature image credit: Tourism Australia