A GUIDE TO THE BEST WINE REGIONS OF SOUTH AUSTRALIA
If you are considering a trip to Adelaide, you have probably heard that the best wine regions of South Australia are on the doorstep of the city. So to make your job of choosing which ones to visit, we are going to give you a quick rundown.
This post contains affiliate links. Our full disclosure policy is here.
There's nothing quite like sitting in beautiful surroundings, sipping on an exquisite glass of wine. And you don't have to head to France to fulfil this dream; you just have to spend time in the capital of South Australia.
Adelaide is one of the nine Great Wine Capitals of the World, with over 200 fantastic South Australia wineries within driving distance. So, make sure that you check out the amazing wine regions of South Australia when you're in the area.
The Wine Regions of South Australia
Like all the other wine capitals in the world, Adelaide boasts internationally renowned wine regions not too far from the city. In fact, there's seemingly no end to the number of wineries and wine regions on offer. This is mostly because of South Australia's variable climate, which offers the perfect grape growing conditions.
How to Decide which South Australian Wine Regions to visit
There are several things you should consider when deciding between the South Australia Wine regions, including:
Your Schedule
If you have limited time, try one of the regions closer to the city, such as Adelaide Hills. But if you have more time, you have plenty more areas to discover.
Your Taste in Wine
Everyone likes something different when it comes to wine. Here's a quick guide to the best wine regions of South Australia for particular favourites:
Other Activities
If you're visiting Adelaide, you probably want to see more than some South Australia wineries (though maybe not). So, if you're trying to choose a wine region, have a look at the other attractions the area offers, such as
The Most Popular South Australia Wine Regions
Once you've decided on your timeline, evaluated your wine tastes, and set aside some time to explore, here are some of the best wine regions of South Australia:
If you enjoy a tart Riesling, then Clare Valley is the destination for you. It's just under two hours from the city and offers excellent South Australian wines in a historical setting.
The Clare Valley contains some of the oldest South Australia wineries and cellar doors, including Sevenhill Cellars, first established in 1851 by Jesuit priests.
But what will strike you most about this region is the variety. Clare Valley doesn't have the polished look of other regions. Instead, you will find yourself drinking wine in heritage buildings, farm sheds, stone cottages, and some achingly hip modern art structures.
The Reisling produced here is among the best in the world, be sure to include a visit to Jim Barry Wines to taste their range of Riesling it's top of my list and this year won the 2020 Halliday Wine Companion 'Winery of the Year'. I am keen to taste their Assyrtiko grown from cuttings imported from the Greek island of Santorini.
Tip: Rent a bike and cycle the 24km Riesling trail, which runs along an old railway line. Bikes are available to rent at either end of the trail.
The Adelaide Hills is one of the most popular wine regions in South Australia for several reasons. It's close to the city, so it makes for an easy day trip. Second, it offers delicious and prize-winning wines – from Pinot Noir to Chardonnay. And finally, the views in this region are simply stunning. It's basically a trifecta of wine drinking.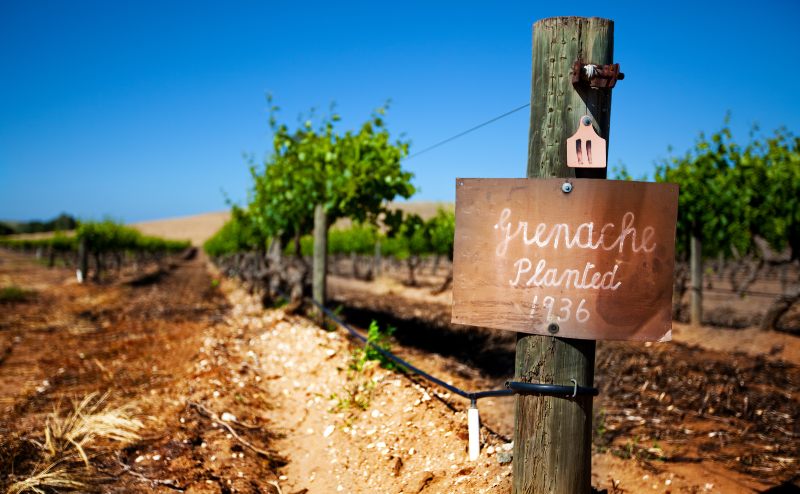 There are more than 60 wineries in this cool climate region which was settled by immigrants from Germany. The area has a distinctly European feel however the wine is very much a modern Australian effort with lots of winemakers playing with new styles and varietals.

Leave some time to stroll the streets of Hahndorf which offers fantastic foodie shopping. Be sure to pop into Udder Delights cheeses for a tasting and something to take home for later.

Hahndorf is one of the best wine regions to visit if you don't have a car – you can join one of the public bus routes that service the area (bus no 864 runs seven days) and use this self-guided walk (PDF) to taste your way around town.
Tip: As if that wasn't enough, in January, the Adelaide Hills also hosts the Crush Festival, an annual celebration of wine and food. If you can time your visit to the festival, you'll be able to make the most of your time.
Most people have heard of the Barossa Valley: it's one of the most famous wine regions of South Australia. There are over 80 cellar doors and 150 wineries in this celebrated region, but the area still retains a close-knit community feel.
Just 90 minutes from the centre of town, there are lots here, so you'll definitely need a guide in this area if you want to see everything, and most of it is too good to risk missing out on.
The Barossa Valley produces more than one-fifth of Australia wine.
The Barossa region comprises two smaller regions, The Barossa Valley and Eden Valley, each known for their own specialty wines. The Barossa Valley itself offers amazing Shiraz, and Eden Valley focuses on Riesling.
But the Barossa Valley is most famous for Seppeltsfield, one of the oldest wineries in the region and winner of the Best Wine Tourism Service at the Great Wine Capitals event in Portugal, November 2016. This one should be top of your list to visit.
There are three towns you should try to pop into; Angaston, Nuriootpa, and the centre of the region, the beautiful town of Tanunda. We have spent the weekend in Angaston and another in Tanunda and found both were great bases.
Some of our favourite wineries in Barossa are St Hallett – Their old block shiraz is delicious. Peter Lehmann winery offers a good overall experience and some excellent wines.

Tip: For an extra treat, don't miss out on the annual Barossa Gourmet Weekend. It's held at the beginning of spring and showcases the best the region offers.
McLaren Vale is under an hour's drive from Adelaide and one of the most popular wine regions in South Australia for warm climate wines. This is where you can sample amazing South Australian wines like Grenache, Chardonnay, Viognier, Shiraz, and more at one of the many wineries in the area.
McLaren Vale is also a great day-trip destination on its own. It's on the coast, which means incredible beaches, and is known for its varied and delectable food scene.
You'll want to spend more than an afternoon here. The area is also an excellent choice for gourmets with some excellent restaurants.
Red wine lovers will probably already have Coonawarra on the list. It is one of the smaller South Australia wine regions but makes up for that with its fertile red soil, which is perfect for producing quality reds. Its modest size is a bonus because it means all the wine cellars are close together and easy to find.
In terms of wine, Coonawarra offers rich, playful drops that are colourful in the mouth and in the glass. Try the internationally renowned Cabernet Sauvignon or the Shiraz for the finest drops in the region and enjoy the richness that comes from the dense, fertile soil.
Wynns Coonawarra Estate is one of the largest in the region and makes several award-winning red wines. They have a fantastic make-your-own blend experience for any budding winemaker.
Once you have done tasting wine, you could visit The Mary MacKillop Interpretive Centre Mary MacKillop is Australia's first saint and taught in Penola.
Tip: Download the Coonawarra walking trail app and get walking. The 5km track passes six vineyards taking about half a day to complete if you visit each one.
South Australian Wine Tours From Adelaide
Sometimes it makes more sense to leave the car behind and not have to worry about who has to play the designated driver. Wine tours are also a good choice if you have not had time to do much research.
Here are a few we would recommend.
Barossa Valley Experiences
Exploring McLaren Vale
National Wine Centre on North Terrace in Adelaide
The National Wine Centre has a wide variety of wines from all the regions. If you are staying in the CBD, it is a worthwhile stop before you venture out to your chosen region. It's also a great stop if you don't have time to do any day trips.
Along with a lovely restaurant, you can taste more than 120 Australian wines from over 55 regions. Even if you visit all the regions in the state, you will still enjoy a visit here. I am sure!
Resources for planning a Do it yourself trip
Most of the wine regions have food and wine trails on their official websites with suggested routes to maximize your visit.

Official sites:
Planning to explore more of the state? Check out our South South Australia Guide for ideas.
The Takeaway
If you love your wine, you absolutely must not miss the wine regions of South Australia. With spectacular views, great food, and amazingly tasty wines, it's the perfect destination for anyone looking to get out of the city and indulge in the best that life has to offer.
Before you go check out our guide to the best wine regions in Australia