A GUIDE TO THE BEST KNOWN WINE REGIONS IN AUSTRALIA
Did you know there are more than 60 wine regions in Australia? The country has a growing reputation as one of the world's largest and most prestigious wine producers. With over 2000 different wineries in almost every corner of this enormous country, and with a highly sophisticated local wine market, Australian wine producers are renowned for their quality, precision, and attention to detail.
This page may contain affiliate links. Read our full disclosure policy for more information.
Thanks to the incredible variety of soils, vines, and climates, Australian wine has a reputation in the international market as one of the world's best.

But with so many wine regions in scattered locations across the country, which ones are the best? Which wine varieties is each region famous for? Read on to discover the best Australian wine regions!
Many wineries now require bookings for all tastings, and there is usually a small charge that is refunded on any purchases you make. Please note that we have tried to include a mix of old and new producers with all our top vineyard lists.
Barossa Valley Wine Region, South Australia
Although South Australia is home to many fantastic wine regions, the Barossa Valley region stands head and shoulders above the rest. Renowned for its incredible reds, particularly Shiraz, the Barossa Valley is home to over 150 wineries.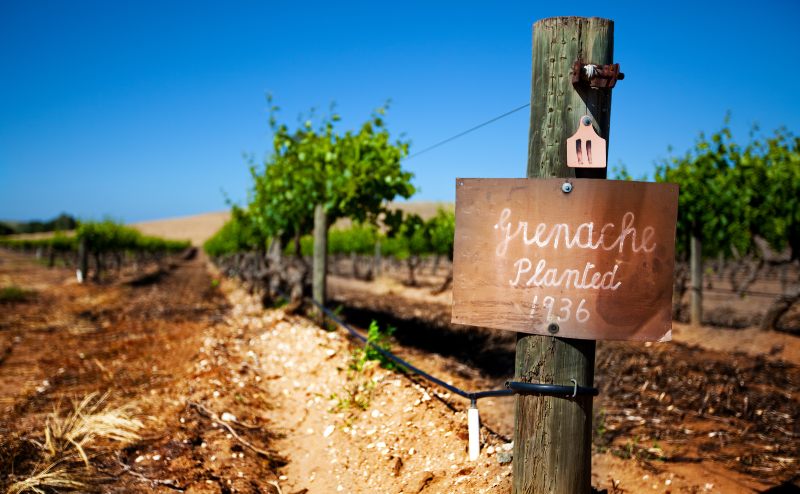 Its history dates back to the first European arrivals in the 1830s. These migrants were predominantly Germans, and the area still has a strong German presence and feel today. And there's some significant history to experience in the Barossa: some vines at Turkey Flat vineyard have been in continual use since 1847!

About an hour's drive north of Adelaide, the state capital of South Australia, the Barossa Valley has two main areas: the Barossa Valley itself, and the nearby Eden Valley. Although the highlight here is definitely Barossa Shiraz (the key component in Penfolds Grange, Australia's most prestigious wine), the Rieslings produced in Eden Valley are also fantastic.
Australia's main vineyard produce is Shiraz, followed by Chardonnay. The two varieties make up 44% of the total wine production.

Wine Folly Australia
The Barossa's major town is Nuriootpa, in the northern end of the Barossa Valley. It's a charming heritage town and one that's truly embraced its mantle as a wine-growing centre. Other towns in the area include Angaston and Tanunda, where you can really engage with the Valley's German heritage.
Tip: While you're in the area, be sure to visit Maggie Beer's Farm Shop in Nuriootpa. Maggie Beer is one of Australia's most loved TV chefs, and her jams, chutneys, sauces and signature verjuice (made from unripe Riesling grapes) are fantastic.
Top Barossa Vineyards
Where to Stay in the Barossa Valley
From vineyard stays to farm stays, boutique hotels to charming bed and breakfast properties and self-contained apartments, there is no end of choice here.
There are not a lot of large hotels in the Barossa. The Novotel Barossa Valley Resort is a good choice for an active stay with a tennis court, large swimming pool and a golf course right next door. They have king rooms and studio which are perfect for a long weekend.
If you would like to mix a bit of history with your wine tasting, Tanunda makes a good base. We spent 3 nights at Basedow Units in May this year. The 2 bedroom unit was beautifully decorated and have everything you need to be comfortable for a long or short stay.
How to get to the Barossa
Distance from Adelaide: 75km via the highway
Travel time: 1hr
Public transport rating: Take the train to Gawler and join a local bus service. There are also some great one day tours from Adelaide. You can also book the Barossa HOHO
Check out our guide to the best wine regions in South Australia
McLaren Vale Wine Region, South Australia
In the Fleurieu Peninsula region, about an hour to the south of Adelaide, the McLaren Vale is another of South Australia's excellent wine regions. Its history dates back to around 1838 when early European settlers planted the first vines, and by 1850 several wineries had been established. Interestingly, for much of its history, the McLaren Vale mainly produced fortified wines. It wasn't until the 1970s when table wine came back into vogue that scores of new wineries sprang up in the area.
Today, McLaren Vale is home to about 74 cellar doors, with over 160 vineyards and over 7300 hectares of vines. Over 50% of the grapes grown in McLaren Vale are Shiraz, known for their dense colour and rich flavour. Cabernet Sauvignon is also widely grown, along with several Mediterranean grapes suited to the warm climate like Vermentino, Montepulciano, Tempranillo and Zinfandel.

The main town here is McLaren Vale itself – it's right in the heart of the action and surrounded by vineyards. But be sure to venture a little further out as well! There are excellent wineries to be found around nearby McLaren Flat, Willunga, and Aldinga.
Top McLaren Vale Vineyards
Tintara – old flour mill transformed into a cellar in 1878 and still welcoming guests
Hugh Hamilton Wines – 270-degree views of our vineyards and of course, the black sheep!
Alpha Box & Dice – Fun and quirky with a unique range of wines
Wirra Wirra – after you have tasted the shiraz, go check out the catapult
Tip: If you're looking for a classic Insta-worthy shot, be sure to visit the d'Arenberg Cube. Their cellar door is a four-storey Rubik's Cube set amongst the vineyards and has to be seen to be believed!
Where to Stay in McLaren Vale
We recommend Beresford Estate for a special stay with their giant bathtubs and outdoor private pool overlooking gorgeous gardens. It's a 5 star getaway you will love.
If you would rather spend your money on wine the one bedroom villas at McLaren Vale Studio Apartments are a brilliant choice.
How to get to McLaren Vale
Distance from Adelaide: 40km
Travel time: 50-60 minutes
Public transport rating: You can take a train to Seaford Station, then bus 751, or let someone else drive and book a day tour to McLaren Vale.
Other wine regions to look out for in South Australia include those in the Mount Lofty Ranges, namely the Adelaide Hills, Clare Valley or Coonawarra and Padthaway on the Limestone Coast.
Hunter Valley Wine Region, New South Wales
The Hunter Valley is Australia's oldest wine region, and arguably one of the best known as well. About three hours' drive north of Sydney, the Hunter Valley was first settled by Europeans in the 1820s.
Recognising the potential for viticulture, the settlers planted vines and, by 1840, the local vineyards covered over 500 acres. Several of the wineries established during this time still exist today, including Lindeman, Tyrrell, and Tulloch.
James Busby, established Australia's wine industry with developed from 20,000 vine cuttings he bought to Australia from Europe
Today, there are around 150 wineries in the Hunter Valley. They're largely centred around Pokolbin, a concentration of hotels, shops, restaurants and wineries, while further afield are the additional centres of Wollombi, Broke, Lovedale and Mount View. Cessnock is the nearest major town and is very handy for stocking up on essentials.
Primarily, the Hunter Valley is renowned for its white wines, particularly Semillon, Chardonnay, and Verdelho. However, Shiraz has always been a favourite here, particularly the medium-bodied variety. And with so many wineries in the area, it's hardly surprising to see a huge range of grape varieties under harvest. European styles like Tempranillo, Sangiovese and Barbera are all growing in both acclaim and popularity.
Tip: Concerts and music festivals are common in the Hunter Valley. The Eagles, Elton John, Sting, and The Rolling Stones have all played in the Hunter, so consider timing your visit to coincide. Jazz in the Vines festival is also very popular, happening in April each year.
Top Hunter Vineyards
Where to Stay in the Hunter Valley
We have done several trips to the Hunter in recent years and a couple of places we have stayed and enjoyed are the villas at Oaks Cypress Lakes for the comfort and facilities or for a quick wine shopping trip the Leisure Inn is well located.
How to get to Hunter Valley
Distance from Sydney: 170km via the M1
Travel time: 2hrs 25 minutes
Public transport rating: You can take the train to Cessnock and then join a local tour.
We have reviewed our favourite Hunter Valley tours over on Sydney Expert.
Mudgee Wine Region, New South Wales
About three hours northwest of Sydney, capital of New South Wales, the Mudgee wine region is one of Australia's hidden gems. Mudgee, the principal town in the area, was founded in the 1820s and was an important centre of the goldfields boom of the mid-19th century.
By 1858, as the gold mining boom faded into a bust, they planted grapevines in the area to diversify the economy, and by the turn of the century, Mudgee was home to over 50 vineyards.
Today, there are around 40 wineries in the area, with many of them on the smaller and boutique end of the winemaking spectrum. With its higher elevation (parts of the region are over 1000 metres above sea level!), the Mudgee area typically grows cool climate wines and is best known for Shiraz, Cabernet Sauvignon and Merlot. Chardonnay is also commonly grown in the area, and we typically know Mudgee Chardonnays for their rich fruity flavour and creamy palate.
Tip: Mudgee itself is a quaint and rustic town, with plenty of old houses and heritage buildings to check out. Be sure to stroll along the pleasant main street and enjoy the genuine historic atmosphere.
Top Mudgee Vineyards
Where to Stay in Mudgee
How to get to Mudgee
It's best to have a car to tour this region, however you can join an organised tour. We recommend AAE Tours who run a fantastic multi-day visit here.
Distance from Sydney: 273km via the Great Western and Castlereagh Highway
Travel time: 3hrs 40 minutes
Public transport rating: You can take the train to Lithgow and then join the Countrylink bus service, but you will probably need to join a local tour to enjoy the best of the vineyards.
If you want to visit another NSW Wine region we suggest Orange and neighbouring Cowra the other two areas that make up the NSW Central Ranges Wineries.
Margaret River Wine Region, Western Australia
The Margaret River wine region lies on the coast of Western Australia, about three hours south of the state's capital, Perth. Initially set up by Europeans in the 1830s as a timber harvesting outpost, it wasn't until the 1960s that the region's wine-growing potential was uncovered. They planted the first vines at Vasse Felix in 1967, and the Margaret River wine region officially began.
These days, Margaret River has over 5000 hectares of vines and over 200 wineries. Many of the wineries are smaller boutique operations, though there are several larger outfits as well. Interestingly, although Margaret River accounts for only 3% of Australia's total wine production, its wineries have a 20% share of Australia's premium wine market – so these are some outstanding wines!

There's a fairly even split between reds and whites, though the region is most famous for its medium-bodied Cabernet Sauvignon. Other popular varieties here include Chardonnay, Semillon Sauvignon Blanc, Shiraz, and Merlot.
Tip: The coastline of the Margaret River region has some of the best surfing in Australia, so be sure to bring your board if you're that way inclined! You'll also see whale migrations between September and December.
Top Margaret River Vineyards
Leeuwin Estate – one of the original wineries in the area with a great cellar door restaurant and art gallery
Vasse Felix – with vines planted in the late 1960s, they produced the region's first cab sav in 1972. A stunning contemporary art gallery and quality wines await.
Voyager Estate – organic wines and a stunning rose garden
Lenton Brae – James Halliday 5-star winery rating
Cullen Wines – biodynamic and carbon positive winery, organic and pet-friendly choice
Where to Stay in Margaret River
Margaret River really is the place that has it all – the wineries surrounded by ancient forests and some of the most beautiful beaches in Australia makes this an exceptional spot. There are not many places where you can go for a surf and be wine tasting an hour later! Consider basing yourself here for at least 3 nights for the best experience.
How to get to Margaret River
Distance from Perth: 280km via the Kwinana Freeway to the Forrest Highway.
Travel time: 3hrs
Public transport rating: There are two bus services to Margaret River and a variety of local tours on offer when you get there. Once you arrive join a local wine tour
Aside from the town of Margaret River itself, the area also includes Busselton, Yallingup, and Dunsborough.
Yarra Valley Wine Region, Victoria
The Yarra Valley wine region is one of Australia's best-known wine regions. About an hour to the north-east of Melbourne, they planted the first vines in the Yarra Valley at Yering Station in 1838. Although the wines produced were popular and well-regarded, difficulties with pests and changing tastes meant that most vines were torn out in the late 19th century. It wasn't until the 1960s that wine production returned to the Yarra Valley, and these days it's home to around 160 wineries with more than 300 vineyards.
There are two distinct areas within the Yarra Valley region: the Valley Floor area around the towns of Lilydale, Healesville and Yarra Glen, and the Upper Yarra area which includes Seville, Warburton, and Hoddles Creek.

The Yarra Valley as a whole is best known for its cool climate wines, and over 60% of the wine produced is Chardonnay and Pinot Noir, while Cabernet Sauvignon, Shiraz, various types of sparkling wine, and Rosé are all also commonly produced.

Tip: Before its 1960s resurgence as a wine-producing area, the Yarra Valley was renowned for its dairy. The local industry is still alive in the area, so be sure to include some of the local artisan cheese makers and chocolatiers on your itinerary!
Top Yarra Valley Vineyards
Domaine Chandon Winery – we can no longer call it Champagne, but this is excellent sparkling wine!
Pimpernel Vineyard – one of the newer vineyards in the area using dry-grown (non-irrigated) vineyards
Yering Station – allow a couple of hours to take in all that is on offer here – excellent tastings in a heritage environment.
Innocent Bystander – pizza and prosecco, yes, please!
Coldstream Hills – founded by James Halliday
Where to Stay in The Yarra Valley
How to get to the Yarra Valley
Distance from Melbourne: 30-35km via the Eastern Freeway and Maroondah Highway.
Travel time: about 30 minutes depending on traffic
Public transport rating: Parts of the Yarra Valley are well suited to those without a car. Take the train to Hurstbridge, Lilydale or Belgrave. Alternatively, check out these tours.
The Mornington Peninsula and Beechworth are other Victoria wine regions to check out if you have time
Tamar Valley Wine Region, Tasmania
One of Australia's oldest wine-growing regions, the Tamar Valley, is located in northern Tasmania, just north of its second-largest city, Launceston. Wine was produced here as early as the 1800s, but despite excellent products, the industry struggled with workforce shortages and eventually folded.

Vines weren't replanted until 1956, and the industry has flourished since then. Today, the Tamar Valley is Tasmania's largest and most productive wine-growing region, producing around 40% of Tasmania's wines.
The Tamar Valley is a cool climate wine region, with strong cold winds blowing in from the Indian Ocean and distant Antarctica. The climate is very similar to that of Burgundy in France, so sparkling wine from the Tamar Valley is highly regarded. Other important varieties grown locally are Chardonnay, Riesling, Pinot Gris, Sauvignon Blanc, and Pinot Noir.

The valley stretches for around 65 kilometres between Bass Strait on Tasmania's northern coast, and the city of Launceston in the south. Other important towns in the area include George Town, Pipers River, and Lilydale.

Tip: The Tamar Valley Wine Route is an excellent source of information about the area, with details of the varieties produced by each winery. It's a great way to narrow down your winery selections!
Top Tarmar Valley Vineyards
Jansz Tasmania – They can't call it Champagne, but you have to try the Méthode Tasmanoise
Marion's Vineyard – beautiful spot on the west bank of the Tamar River – taste the Tempranillo
Tarmar Ridge – Pinot Noir with a view
Where to Stay in The Tarmar Valley
Being so close to Launceston, you can stay in town and take the short drive to the wineries or choose to stay out of town with a vineyard view.
How to get to the Tarmar Valley
Distance from Launceston: 30km
Travel time: 30 minutes
Public transport rating: Not a straightforward journey, it will require a couple of buses and take about 1 hour 20 minutes.
Granite Belt Wine Region, Queensland
Warm tropical Queensland isn't necessarily somewhere you'd associate with wine-growing, but surprisingly, the state is home to six different wine regions! The largest, and by far the most important, is known as the Granite Belt Wine Region, located about three hours' drive southwest of Brisbane and the Gold Coast, along the southern border with New South Wales.

The Granite Belt sits among the hills of the Great Dividing Range, with most vineyards over 800 metres above sea level, making it Australia's highest wine region.
The first grapes were planted in the Granite Belt in 1965, and the industry has steadily built up over the intervening years. Today, the region accounts for 60% of Queensland's wine production and has almost 50 wineries across 320 hectares of vineyards.

Although the region produces many common types of grapes, such as Cabernet Sauvignon, Chardonnay and Shiraz, many local winemakers are pursuing an unusual "Strangebirds" strategy, focusing on lesser-known and uncommon varieties. Examples of this include Tempranillo from Spain and Georgia's Saperavi.
The region is centred around the town of Stanthorpe, though it stretches as far north as Dalveen and slightly past Ballandean in the south.
Tip: Visit the Granite Belt during winter. Known as "Brass Monkey" season, it's the frostiest time of year, and an excellent opportunity to stay indoors, tasting wine and enjoying the excellent local produce. And of course, be sure to grab a selfie with the brass monkey statue in Stanthorpe!
Top Granite Belt Vineyards
How to get to the Granite Belt
Distance from Brisbane: 220km
Travel time: 2 hours' drive south-west from Brisbane and 2.5 hours from the Gold Coast
Public transport rating: You can take a bus from Brisbane, Toowoomba or Warwick
Got a question? Head over to our Australia Travel Tips Facebook Group and ask a local.