14 ROMANTIC HONEYMOON DESTINATIONS IN AUSTRALIA
Honeymoon destinations in Australia that are front of mind usually include the Great Barrier Reef, Uluru, and Broome, but the country has many equally wonderful places for crafting a romantic holiday for the newly married. We asked some Australian travel writers to share places they think are perfect for spending some time with the person they love.
This page may contain affiliate links. Read our full disclosure policy for more information.
Explore the world's most exotic landscapes and get a taste of what it's like to live in one of the most beautiful countries in the world. Australia is full of wonder and beauty that will have you feeling like you have been transported to another world.
In Australia, you can find everything from deserts and mountains to beaches and tropical islands. Whether you want to explore the vast Australian outback or relax on a beach in Queensland, we have honeymoon destinations in all different regions for you to explore.
Cape York, North Queensland
If you're looking for a truly unique honeymoon in Australia, exploring the vast, remote expanse of Cape York could be exactly what you're looking for. It may not be overflowing with luxury accommodation, but some serious gems are waiting to be discovered and endless hours of alone time to enjoy.
You will need a reliable 4wd to experience everything the Cape offers and take a full rip to the tip of Australia. There are so many different ways to do the trip from camping on basic National Park sites to mid-range cabin-style accommodation up to luxury beachfront houses equipped with everything you need for a comfortable trip.

There's also plenty to do and see along the way including fishing and diving some of the last untouched stretches of the Great Barrier Reef through tour operators like Cape York Experience, spotting rare native wildlife, swimming in picture-perfect waterfalls (like Fruit Bat Falls), helicopter flights along the coast and so much more! Planning and researching a trip exploring Cape York is almost as much fun as actually visiting.
If your idea of romance is uninterrupted time together, camping under the stars, and enjoying some serious solitude with a spattering of adventure, Cape York is sure to please, in fact, we think it is one of the best places for a honeymoon in Australia.

Suggested by Sophie Marie from Australian Kitchen & Home
Tamborine National Park, Gold Coast
Tamborine National Park is about a 45-minute drive from the Gold Coast and a must-visit on any Australia East Coast road trip. There are many National Parks in Australia, all unique in their way and also very suitable activities if you are travelling to Australia on a budget since these Parks are often free or only charge a small access fee.
The only way to get to Tamborine National Park and see the different sections is by car. But driving is part of the fun of this beautiful area. Select your favourite playlist and embark on a romantic road trip.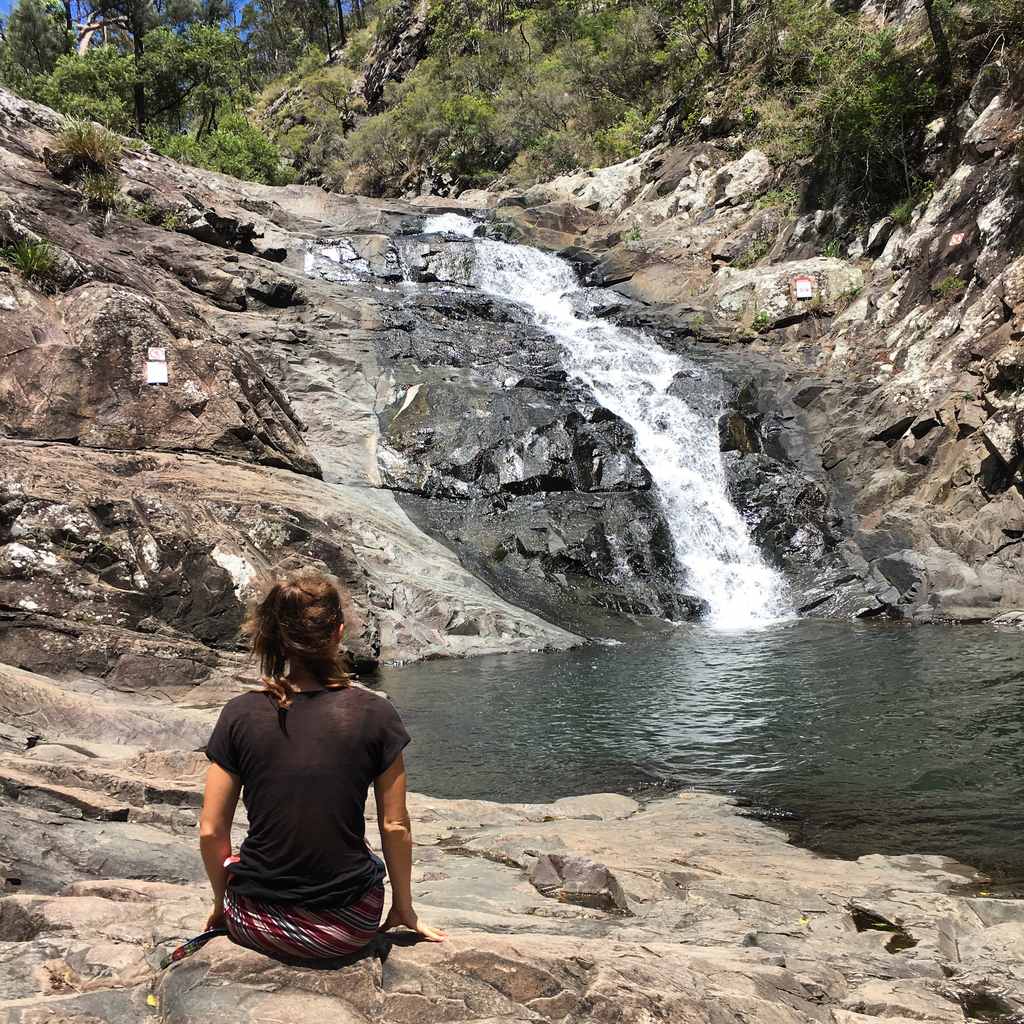 Tamborine Mountain is a 550-meters high plateau. Temperatures are a bit lower than at the coast, so be sure to bring along a jacket for this trip. Tamborine National Park consists of 14 sections, the most popular parts of the park are Palm Grove, Cedar Creek Witches Falls, and MacDonald Park.
What's more romantic than walking in a beautiful tropical forest? Listen to the birds singing their songs and admire the pretty Witches Falls at the end of this 3-kilometer hiking trail. Another highlight is the Tamborine Rainforest Skywalk. This easy and short 1.5 km walk through the treetops offers stunning views of the surrounding forest.

Last but certainly not least is Cedar Creek, another must-visit in Tamborine National Park. Here you can see a cascading waterfall that empties into a natural swimming pool. Go for a swim or relax on the rocks while admiring the view of the waterfall and each other. As it gets quite busy during the weekend, it's best to visit during weekdays.

A very beautiful and romantic place to stay is the Cedar Creek Lodges in Mount Tambourine this is a wedding location as well so you could even consider tying the knot here! Spend a night to two on the Gold Coast on the way home for some nightlife.
Suggested By Lotte from Phenomenal Globe Travel Blog
Find even more great tips on visiting the Gold Coast's best waterfalls
Bruny Island, Tasmania
If you're looking for some cozy privacy, memorable scenery, and gourmet food, Bruny Island on Tasmania's east coast should be on your list of Australian honeymoon spots to consider. The ferry to Bruny Island leaves from Kettering, 30 minutes south of Hobart.
You can take a car on the ferry and it's a good idea to drive as besides relaxing, there's a lot to see and do. The island's highlights will depend on your interests. For a bit of indulgence, Bruny Island has one of Australia's most delicious artisan food trails.
Cheese, honey, oysters, seafood, chocolate, berries, wines, whiskey, and ciders are all on the menu. And there's the Bruny Island hotel, cafes, and restaurants to sample as well.
Nature lovers have lots of bushwalking options and pristine beaches to explore. There are also spectacular views at the Bruny Island lighthouse. On a Bruny Island Cruise, you can spot dolphins, seals, and whales and get great views of the rugged coastline.
The island has a wonderful range of Airbnb accommodations. For starters, try the romantic Adventure Bay Retreat, the shabby chic style of The Shack, and contemporary refinement and timeless views at the Bruny Island Boathouse. Whether you want ocean vistas, a touch of luxury, or some solitude, you'll find the perfect place.
Suggested by Natalie from Curious Campers
Kangaroo Island, South Australia
Some of the best Australian honeymoon destinations have an outdoor and adventure feel. This is very much the case with Kangaroo Island in South Australia.

One of the largest islands off the coast of Australia, KI as it is known, is a haven of pristine nature and wildlife. If you are looking for a honeymoon adventure filled with terrific landscapes, great food, and animal encounters, a week here is ideal.
A big day on the island involves a mix of scenic drives, swims at the beach, and a plate of oysters. Perfect activities for the newly married.

For animal encounters, don't miss the koala habitat of Flinders Chase National Park and the seal colony at Seal Bay. And for the most exhilarating experience, you can swim with dolphins and seals at Penneshaw. This was my best experience on Kangaroo Island!
In terms of food, the island has a lot to offer… Lunch at the Oyster Shack in American Bay is where you'll get the freshest seafood. You can discover locally-made beer at Kangaroo Island brewery in Kingscote, wild gin and liqueurs at the Kangaroo Island Spirits distillery on the Playford Hwy, and cider at the Emu Ridge Eucalyptus Oil distillery.

There are also several honey farms with a cellar doors. My best food experience of the week was eating the famous whiting burger at the Vivonne Bay General Store.
All this exploring is best done by car, otherwise, alternatively, there are tours from Adelaide and tours that begin on the island. This is a year-round destination but if you want to swim you need to visit in December or January.
Suggested by Delphine of Lesterlost
Related: Check out our guide to planning your Kangaroo Island driving trip
Cairns, North Queensland
Cairns is the perfect tropical getaway in Australia, located in far north Queensland, it's a great year-round choice. It is the perfect hub for a combined city and beach honeymoon, with so much to see and do.
There are resorts for every budget, but you can have just as much fun turning your Cairns honeymoon into a Queensland road trip and hiring a campervan.
A reef snorkeling trip is a must or take a day trip to Green Island for a laid-back day of snorkeling, lazing on the beach, and cocktails. A visit to Kuranda in the mountains is another fun day of exploring for couples, taking the scenic railway up the mountain and the cable car back down.
Ochre Restaurant is a perfect romantic setting along the marina or to enjoy fresh seafood at The Raw Prawn. Spend a day driving to Port Douglas, the drive is one of the prettiest in the country.
While a car isn't essential for a Cairns honeymoon, with so many attractions right near the city center and plenty of days tours on offer, if you want to explore further north to Port Douglas or into the hinterland, a car will make this easier! There are some incredible day trips from Cairns you won't want to miss!
Suggested by Holly from Four Around The World
Related: Should your base be Cairns, Palm Cove, or Port Douglas?
West Coast, Tasmania
The diverse west coast of Tasmania is made up of ancient rainforests, thundering waterfalls, mirrored rivers, and magnificent lakes. It is one of the best places to visit for an adventurous honeymoon in Australia, where you can also disconnect and relax in comfort.
The best way to experience the rugged west coast is to hire a car and take a self-driving trip. Stop at hot spots like Cradle Mountain, where you can connect with nature on numerous walks in the area.
It is also here where ancient forests are traded for candlelit dinners at night. Peppers Cradle Mountain Lodge King Billy Suites is a romantic choice for honeymooners. The luxurious rooms provide an oasis in nature where you can clink glasses by a crackling fireplace or relax in the outdoor jacuzzi gazing at the starlit sky.
Continuing south, join a Gordon River Cruise, one of the best things to do in Strahan. Take a journey through world heritage-listed areas where you will experience breathtaking beauty around every corner. As a honeymoon treat, upgrade to the premier upper deck that serves complimentary beverages and meals within supreme comfort.
Suggested by Sharee from Inspired Family Travel
Southern Great Barrier Reef Islands, Queensland
We recommend going somewhere a bit different on your honeymoon in Australia and trying the Southern Great Barrier Reef Islands. Although The Whitsundays seem to be the favourite island destination in Australia, the Southern Great Barrier Reef Islands are less touristy and might be more pristine. Because the islands are further away from the mainland, you'll find more marine life and clearer waters.
Head over to Heron Island which is a two-hour ferry ride from the regional city of Gladstone, or a beautiful short helicopter flight to paradise. You'll honestly wonder if you've been transported to somewhere like the Maldives because the water is so clear and turquoise.
Plus, did we mention the turtles? Expect to see turtles lining up on the shore as you witness the end of their epic journey from the Solomon Islands to nest during turtle season from Nov-March.
Add on the luxury castaway adults-only neighbouring Wilson Island which is just a short boat ride away for the ultimate relaxation heaven awaiting you.
Suggested by Annie from Londoner in Sydney
Margaret River, Western Australia
Looking for a honeymoon destination in Western Australia? Margaret River is the perfect place for couples that want a secluded getaway filled with gourmet food and wine and incredible scenery.
To get to Margaret River, and easily explore the region, you will need a car. It will be worth having a car when you discover all the incredible places in Australia's South West. Just don't forget to take your camera, because there are many stunning places to capture on your romantic getaway.
Here's what to do in Margaret River:
Enjoy lunch at brewery
Take a whale-watching tour
Visit the beach for a day in the sun
Best wineries and breweries to visit:
Voyager Estate
Xanadu Wines
Margaret River Brewhouse
Beer Farm
Recommended accommodation in the Margaret River Region:
Suggested by Megan from The Common Adventure
Whitsunday Islands, Queensland
When it comes to dreamy places in Australia, the Whitsunday Islands are the first thing that comes to mind!
This archipelago of 74 islands is an absolute paradise for honeymooners. Hamilton Island, Daydream, and Hayman Island are home to some of the most incredible resorts in the country. Pools, massages, hot tubs, beachfront… they have it all! You will even find adults-only resorts such as the Beach Club.
Another reason to visit the Whitsundays for your honeymoon is the variety of activities available. Sailing, snorkeling, scuba diving… you can do it all! The landscapes and natural landmarks are incredibly beautiful. The two most romantic places to visit are Whitehaven Beach and the Heart Reef.

You can easily go on a day trip to Whitehaven Beach by boat. It's one of the whitest most pristine beaches in the world, and you will be mind blown by the views from Hill Inlet.

To see the heart reef, you will have to book a scenic flight. It lasts 60 minutes and will take you above the islands and to the Great Barrier Reef.

Couples looking for a luxury getaway in the Whitsundays may also consider booking a trip to the Heart Island Pontoon. You could also book a night on Reefsleep!
Suggested by Pauline of Beeloved City
The Southern Highlands, NSW
The Southern Highlands region of New South Wales is perfect for honeymooners, with a huge variety of activities to suit any palate. The area is filled with lush Australian bushland, tantalising restaurants, picture-perfect drives, and even a few wineries.

Bowral, one of the bigger towns in the Southern Highlands, is a must-visit for food and beautiful flowers, particularly in Spring when the Corbett Gardens are full of colourful tulips. The gorgeous Centennial Vineyard is also close by for a long, relaxing lunch and cellar door experience among the vines.
The Southern Highlands is also home to the famous Pie Trail where drivers can hop from town to town to sample the region's most prized pies. For those looking for a more upmarket experience, the region is also home to a handful of hatted restaurants such as the world-famous Horderns or Eschalot restaurants.
From Sydney, the Southern Highlands region is less than 2 hour drive and whilst trains are also available into some of the main town centres, having a car will make it easier to get around and explore. It is possible to travel the Southern Highlands on a budget or splash out on a bit of luxury whilst you are there – the choice is completely up to you. The best time to visit the highlands is in Spring!
Suggested by Emma Jane from Emma Jane Explores
The Twelve Apostles, Victoria
Watching the stars of the Milky Way appear above the 12 Apostles is a very romantic experience! The huge limestone shards that rise up from the seabed are called the 12 Apostles. They are the highlight of a spectacular Australian road trip along the southeastern coast of Australia. Known as the Great Ocean Road, the scenery along the drive is wild, fragile, and beautiful but the small towns that line the route are also charming.
It is possible to take a helicopter return trip from Melbourne to see the 12 Apostles, but driving along the Great Ocean Road is the most popular way to see not just the 12 Apostles but the Grotto, London Arch, and Loch Ard Gorge. Cape Otway National Park offers wonderful bushwalks, the lighthouse, and waterfalls, and Princetown near Port Campbell which includes a wetlands boardwalk.
A Great Ocean Road itinerary can take anything from a day to a week. Each town along the route is different, with the lovely towns of Anglesea, Torque, Lorne, Apollo Bay, Port Fairy, and Portland offering historic and maritime homes and museums. Smaller towns such as Port Campbell, Wye, and Kennett River, offer close encounters with koalas, seals, and other Australian wildlife.
Suggested by Monique – Trip Anthropologist
The Hunter Valley, New South Wales
One of Australia's premier wine regions, the Hunter Valley is an ideal destination for a tranquil weekend getaway. Offering both seclusion and plenty of choices for activity makes it a perfect Honeymoon option too.
Naturally visiting the wineries rank highly on the list of popular activities, offering the opportunity for taking in the best of the picturesque valley. There are also a plethora of top-notch restaurants and cafés serving local produce to sample, as well as specialty cheeses and chocolate.

The region is also well known for its hot-air ballooning, even hosting an annual festival every October that draws balloons from all over the country to take part. A breakfast package flight might be the perfect way to embark on a new journey together.
If quiet solitude is your style, there are plenty of private accommodations on properties, including boutique wineries, throughout the valley. If you prefer the resort experience, there are a number of those to choose from too. The best time to visit is in Spring and Autumn.
by Holly from Globeblogging
Staying in the Hunter? Check out iHop Hunter Valley, the local hop on hop off bus
The Bellarine Peninsula, Victoria
If you're looking for an intimate honeymoon destination away from the crowds, then the Bellarine Peninsula is a perfect choice.
Just 90 minutes south of Melbourne it's relatively unknown outside of Victoria so it doesn't attract loads of tour buses. But this tiny region has an abundance of attractions and it's ideal for couples wanting to spend time together.
The Bellarine is filled with historical seaside towns and tiny fishing villages, each with its own unique character and heritage. The best way to see them is to jump in the car and head out on a road trip through the rolling hills.
As you travel between each village, you'll be rewarded with beautiful farmland scenery, panoramic ocean views, berry farms, olive groves, distilleries, and some of the best wineries in the country.
When the sun goes down, enjoy a romantic dinner surrounded by olive trees at Merne Lighthouse. And stay in a grand old hotel, luxurious B&B, or a heritage-listed inn.
Suggested by Audrey Chalmers from See Geelong
Melbourne, Victoria
Melbourne is a fabulous honeymoon destination for couples who love great food and wine, the arts, and shopping.
One of the best things to do is spend a few days exploring the city's laneways and enjoy browsing the small boutiques, and art spaces and drinking some of the country's best coffee. For art lovers, there is the National Gallery, theatre productions, and world-class musicals to enjoy too.
In the evenings, you are spoilt for choice when it comes to romantic restaurants and hidden bars. The degustation menu at Cutler & Co, tapas at the iconic Spanish restaurant, or a cozy table for two at France Soir will all be memorable meals you will reminisce about together.
At the end of the day, retreat to your luxurious room at the Park Hyatt Melbourne. One of Melbourne's most romantic hotels is tucked away at the east end of the with park views and luxury facilities.
If you tire of the city, rent a car or book a tour, go on a walk, and take a day trip to the Yarra Valley, where you can enjoy a spectacular hot air balloon ride over world-class wineries before enjoying lunch and wine-tasting at Yering Station. Or head to the Mornington Peninsula for some beach time and a couple's massage and soak at the gorgeous Peninsula Hot Springs.
Melbourne is one of the most romantic cities in Australia and a great choice for your honeymoon. The best time to visit is from October to April.
Suggested by Rachel from Adventures and Sunshine
Read more in our list of classic Aussie honeymoon ideas
Got a question? Head over to our Australia Travel Tips Facebook Group and ask a local.